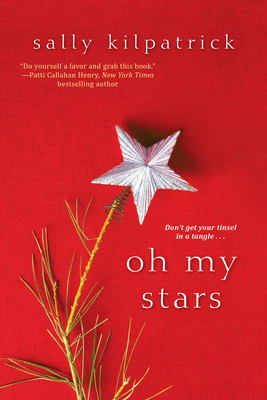 Oh My Stars (An Ellery Novel #5) (Paperback)
Kensington, 9781496710758, 352pp.
Publication Date: September 25, 2018
Other Editions of This Title:
Library Binding, Large Print (11/21/2018)
* Individual store prices may vary.
Description
A heartwarming, hilarious Christmas story with a Southern twist.
 
Like most things in Ellery, Tennessee, this year's Drive Thru Nativity is a little unconventional. The Dollar General parking lot doubles as a Bethlehem stable, and widowed writer Ivy Long, who's been roped into playing Mary, sure as heck isn't a virgin. But then comes an unexpected development: a genuine, real-life baby left in the manger, with only a brief note. And somehow, in the kerfuffle that follows, Ivy finds her life is about to change . . .
 
The holidays are a bittersweet time for Ivy—filled with memories of her beloved late husband and reminders that life doesn't always offer the happily-ever-afters her readers expect. So when Ivy ends up with custody of the baby, she can only chalk it up to a Christmas miracle. She doesn't know if it will be forever, but with help from family, she'll make little Zuzu's first Christmas a good one. The nativity's Joseph, aka Gabe Ledbetter, has a pediatrics background that's coming in mighty handy. In turn, Ivy is helping Gabe find his place in the quirky community. If that place turns out to be somewhere near Ivy, well, maybe this particular Christmas story will turn out to be merry and bright after all . . .
 
Praise for Sally Kilpatrick's Previous Novels
 
"Do yourself a favor and grab this book and hide away with its laugh-out-loud and cry-out-loud moments all mixed up in one place."
—Patti Callahan Henry, New York Times bestselling author
 
"Don't miss this quirky, fun love story. I couldn't put it down."
—Haywood Smith, New York Times bestselling author on Better Get to Livin'
 
"A pleasantly engaging take on Romeo and Juliet." —Library Journal on Bittersweet Creek
About the Author
Born and raised in West Tennessee, Sally Kilpatrick graduated from the University of Tennessee, Knoxville, with a BA in English. At UT she met and married a Georgia boy. Now they live in Marietta, GA, with their two kids. She holds a Masters in Professional Writing from Kennesaw State University and taught high school Spanish for eight years before taking a sabbatical to write and mother full time. In addition to reading and writing, Sally likes traveling, historic house tours, running, religious studies, and all things geek. Readers can learn more at www.sallykilpatrick.com or follow her on Twitter and Facebook.
Praise For Oh My Stars (An Ellery Novel #5)…
Praise for Sally Kilpatrick's Oh My Stars:

"Charming....A yuletide treat that will warm readers' hearts." --Library Journal

"Captures all the sweet and sassy of a cozy southern town…. Takes the story beyond a romance to a novel about self-discovery. Fans of fun southern small towns [and] Christmas miracles…will rejoice." --Booklist

"Do yourself a favor and grab this book and hide away with its laugh-out-loud and cry-out-loud moments all mixed up in one place. Kilpatrick enthralls us again with her trademark quirky humor and vivid characters."  —Patti Callahan Henry, New York Times Bestselling author

Praise for Sally Kilpatrick's previous novels: 

"Kilpatrick is back with another tale full of sassy Southern characters. She writes in a way that makes readers feel as if they are hanging out with their best friend. The characters and scenes are quirky, making this a fun read, though it does have a serious message of moving from loss to rebirth to empowerment. Posey is easy to root for and Chad is someone you love to hate." —RT Book Reviews

"Fans of Southern contemporary romance will be charmed." —Publishers Weekly

"Readers will both laugh and cry as Declan and Presley face loss, learn life lessons from ghosts, and realize life is much easier to handle with someone by your side." —Booklist 

"Pleasantly engaging." —Library Journal 

"Witty, warm, and as complex and heart-wrenching as only love and family can be."  —Heroes and Heartbreakers 

 "In short, this one is pretty much as close to perfect as a reading experience can get. —Nashville Book Worm