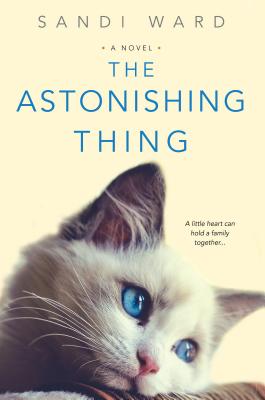 The Astonishing Thing (Paperback)
Kensington, 9781496711113, 272pp.
Publication Date: October 31, 2017
Other Editions of This Title:
Mass Market (4/28/2020)
Paperback, Large Print (4/18/2018)
* Individual store prices may vary.
Description
In her inventive, sometimes bittersweet, ultimately uplifting debut, Sandi Ward draws readers into one extraordinary cat's quest to make sense of her world, illuminating the limits and mysterious depths of love . . .

Pet owners know that a cat's loyalty is not easily earned. Boo, a resourceful young feline with a keen eye and inquiring mind, has nonetheless grown intensely devoted to her human companion, Carrie. Several days ago, Carrie—or Mother, as Boo calls her—suddenly went away, leaving her family, including Boo, in disarray. Carrie's husband, Tommy, is distant and distracted even as he does his best to care for Boo's human siblings, especially baby Finn.

Boo worries about who will fill her food dish, and provide a warm lap to nestle into. More pressing still, she's trying to uncover the complicated truth about why Carrie left. Though frequently mystified by human behavior, Boo is sure that Carrie once cared passionately for Tommy and adores her children, even the non-feline ones. But she also sees it may not be enough to make things right. Perhaps only a cat—a wise, observant, very determined cat—can do that . . .

Wonderfully tender and insightful, The Astonishing Thing explores the intricacies of marriage and family through an unforgettable perspective at the center of it all.
 
"A beautiful and touching look into the intricacies of marriage and family life, all seen through the loving and unique perspective of the family pet."
--Modern Cat
About the Author
Sandi Ward is the author of The Astonishing Thing and Something Worth Saving. She received her MA in Creative Writing from NYU and is a copywriter at an advertising agency. Sandi grew up in New England and now lives on the Jersey Shore with her husband, teenagers, dog, and a big black cat named Winnie. Visit Sandi at sandiwardbooks.com.
Praise For The Astonishing Thing…
"The Astonishing Thing is a unique and poignant tale of a family's struggle as witnessed by someone who sees everything. A heartfelt homage to the four legged companions who accompany us through life's toughest times, this is a triumphant debut for Sandi Ward."
Helen Brown, New York Times bestselling author of Cleo

"This is a truly special book, one that captured my heart from the very first line. In Boo the cat, Sandi Ward has worked magic to create an utterly believable narrator with the consciousness and emotions of both a feline and a human member of a close-knit but troubled family, and with the wisdom of – well, the wisdom of a creature who loves deeply and unconditionally those with whom she shares a home. And we trust this wise and yet vulnerable narrative voice as if it were indeed possible. The Astonishing Thing feels like a bit of a miracle and we all could use a miracle."
Holly Chamberlin, author of Home for the Summer

"Masterful in its telling, and weaving a complex story about mental illness, the complexities of love, and finding hope when all seems lost, this story will break your heart, and put it back together page by page."
 Lisa Duffy, author of The Salt House
 
"This charming novel reminds us that love and salvation can come in the most unexpected ways. I suspect all of us will look at our cats differently after reading this book."
 Susan Breen, author of the Maggie Dove mystery series
 
"Devastatingly original."
Barbara Bos, Women Writers, Women's Books
 
"The book touches on some of the darker turns in life...the cat's personality and insights are so unsparing that it pulled me though this rich novel."
Devin Murphy, author of The Boat Runner
 
"An incredibly sweet and charming novel--but it doesn't shy away from difficult subject matter, either."
Jenny Williams, author of The Atlas of Forgotten Places
 
"This tender, charming novel is a true pleasure and worthy of your time and attention. If you can read just one book this year, this would be an excellent choice."
Kate Brandes, author of The Promise of Pierson Orchard
  
"The novel touches on some very heavy topics. However, Boo's endearing voice is a salve for the reader, and Ward's command of balancing comedy with drama shapes the novel's tone into something both unique and inspiring. People who like The Art of Racing in the Rain will enjoy this unusual take on a family in crisis."
Adriana Arrington, author of Bleed Through
 
"Endearing, irresistible, sometimes painful, and unforgettable."
Karen Sargent, author of Waiting for Butterflies
 
"Original and heartfelt."
Kathleen Flynn, author of The Jane Austen Project
  
"There are lessons here for everyone, about sacrifice, starting over, and seeing the hero in those we too often overlook. A fun and fantastic read."
Renee Macalino Rutledge, author of The Hour of Daydreams