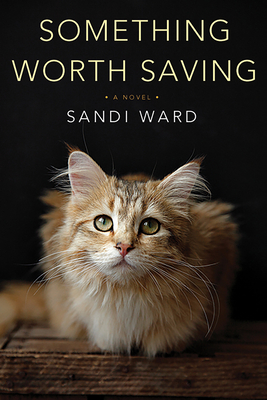 Something Worth Saving (Paperback)
Kensington, 9781496711137, 320pp.
Publication Date: December 18, 2018
Other Editions of This Title:
Compact Disc (1/22/2019)
MP3 CD (1/22/2019)
Paperback, Large Print (2/6/2019)
* Individual store prices may vary.
Description
Sandi Ward's shrewdly observed, funny, and wonderfully touching novel tells of a fractured family, a teenage boy, and a remarkable cat whose loyalty knows no bounds . . .
 
A boy and his cat. It's an unconventional friendship, perhaps, but for Charlie and Lily, it works beautifully. It was Charlie who chose Lily from among all the cats in the shelter. He didn't frown, the way other humans did, when he saw her injured back leg, the legacy of a cruel previous owner. Instead, Charlie insisted on rescuing her. Now Lily wants to do the same for Charlie.
 
She's the only one who's seen the bruises on Charlie's body. If she knew who was hurting him, she'd scratch their eyes out. But she can't fix this by herself. Lily needs to get the rest of the family to focus on Charlie—not easy when they're wrapped up in their own problems. Charlie's mother kicked his father out weeks ago and has a new boyfriend who seems charming, but is still a stranger. Oldest son Kevin misses his father desperately. Victoria, Charlie's sister, also has someone new in her life, and Lily is decidedly suspicious. Even Charlie's father, who Lily loves dearly, is behaving strangely.
 
Lily knows what it's like to feel helpless. But she also knows that you don't always have to be the biggest or the strongest to fight fiercely for the ones you love . . .
 
Praise for Sandi Ward's The Astonishing Thing
 
"A beautiful and touching look into the intricacies of marriage and family life, all seen through the loving and unique perspective of the family pet."
—Modern Cat
 
"The Astonishing Thing feels like a bit of a miracle and we all could use a miracle."
—Holly Chamberlin, author of The Summer Nanny

 
About the Author
Sandi Ward is the author of The Astonishing Thing and Something Worth Saving. She received her MA in Creative Writing from NYU and is a copywriter at an advertising agency. Sandi grew up in New England and now lives on the Jersey Shore with her husband, teenagers, dog, and a big black cat named Winnie. Visit Sandi at sandiwardbooks.com.
Praise For Something Worth Saving…
"Powerful and smartly written, Ward explores the intricate workings of family life with a compassionate touch and unflinching honesty. You'll root for the characters in this memorable novel long after you've turned the last page."
 —Lisa Duffy, author of The Salt House and This is Home  
 
 "Sandi Ward's elegant writing and deft, unconventional narration masterfully weave together in this sensitive and nuanced tale of a fractured family. Lily, the family cat, is an endearing, observant narrator whose perspective cuts to the core, showing the truth through rich, delicately wrought details, which are often fresh and textural. At times heartwarming, at times bittersweet, Something Worth Saving is a delight to savor reading."
—Meghan Masterson, author of The Wardrobe Mistress
 
"Something Worth Saving covertly, cleverly, perceptively, and earnestly tells the story of a family unit facing drama on all fronts. Intriguing and thought provoking!"
—Jenni L. Walsh, author of Side by Side

"The family pets see so much more than anyone realizes in this family drama. Narrator Lily may be a cat,but she is fiercely loyal to her humans, especially teenaged Charlie, the youngest member of the Potter clan, who picked her himself from the shelter. She knows someone is hurting Charlie but has no idea who would do such a thing. Life has been unpredictable for the Potters ever since mom asked dad to move out, and Lily can only watch as the family unravels. Lily wants to be a hero and help defend her family from the threats that seem to be everywhere—bullies, bad boyfriends, and their own fighting—but she is just a cat, and things aren't that easy. When a new handyman arrives on the scene, it might be the start of even more problems, or it might just end up being the thing that they all needed. Told with empathy and hope, this would be a perfect gift for cat lovers or anyone who enjoys a fresh take on the family drama."
—Booklist