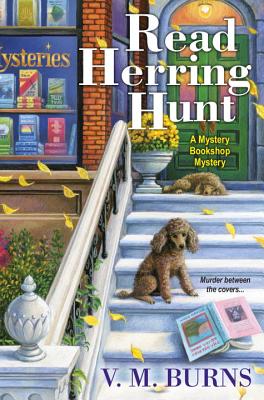 Read Herring Hunt (Paperback)
Kensington, 9781496711830, 288pp.
Publication Date: April 24, 2018
Other Editions of This Title:
Paperback, Large Print (1/9/2019)
* Individual store prices may vary.
Description
Mystery bookstore owner Samantha Washington is about to find out it's not so easy to play Monday morning quarterback when it comes to murder. . .
 
To the town of North Harbor, Michigan, MISU quarterback Dawson Alexander is a local hero. To Samantha Washington, owner of the Market Street Mysteries Bookstore, Dawson is more than a tenant—he's like an adopted son. But to the police, he is their prime suspect after his ex-girlfriend is found murdered. It's more than enough real-life drama for Sam to tackle, but her role as a mystery writer also calls. Returning to the English countryside between the wars, she finds Lady Daphne Marsh in quite the quandary. Someone has tried to murder the scandalous American divorcée Wallis Simpson, for whom Edward VIII so recently abdicated his throne. It seems finding a suspect is no small challenge when most of England has a motive . . .
 
While Sam's lawyer sister Jenna rushes in to build Dawson's defense, Sam and her lively grandmother, Nana Jo, huddle up to solve the mystery and blow the whistle on the real killer. With the tenacious members of the Sleuthing Senior Book Club eager to come off the sidelines, Sam and her team just might stop a killer from completing another deadly play . . .
 
Praise for V.M. Burns and The Plot Is Murder
 
"You'll love this delightful debut mystery with its charming and wacky cast of characters and a mystery within a mystery just to keep things interesting."
—Victoria Thompson, bestselling author of Murder in Morningside Heights
About the Author
V.M. Burns is the acclaimed author of screenplays, children's books, and cozy mysteries, including the Dog Club Mysteries, the RJ Franklin Mysteries, and the Mystery Bookshop Series. Born and raised in South Bend, Indiana, V.M. Burns currently resides in Tennessee with her poodles. She is a member of Mystery Writers of America, Dog Writers Association of America, Thriller Writers International, and a lifetime member of Sisters in Crime. She can be found online at www.VMBurns.com.