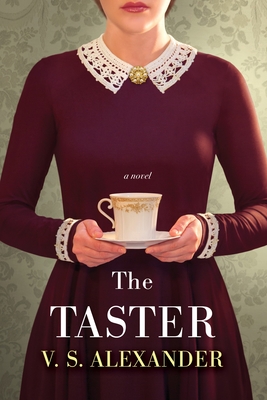 The Taster
Paperback

* Individual store prices may vary.
Other Editions of This Title:
Digital Audiobook (1/29/2018)
Paperback, Large Print (3/21/2018)
Compact Disc (1/30/2018)
MP3 CD (1/30/2018)
Compact Disc (1/30/2018)
Description
Amid the turbulence of World War II, a young German woman finds a precarious haven closer to the source of danger than she ever imagined—one that will propel her through the extremes of privilege and terror under Hitler's dictatorship . . .
 
In early 1943, Magda Ritter's parents send her to relatives in Bavaria, hoping to keep her safe from the Allied bombs strafing Berlin. Young German women are expected to do their duty—working for the Reich or marrying to produce strong, healthy children. After an interview with the civil service, Magda is assigned to the Berghof, Hitler's mountain retreat. Only after weeks of training does she learn her assignment: she will be one of several young women tasting the Führer's food, offering herself in sacrifice to keep him from being poisoned.
 
Perched high in the Bavarian Alps, the Berghof seems worlds away from the realities of battle. Though terrified at first, Magda gradually becomes used to her dangerous occupation—though she knows better than to voice her misgivings about the war. But her love for a conspirator within the SS, and her growing awareness of the Reich's atrocities, draw Magda into a plot that will test her wits and loyalty in a quest for safety, freedom, and ultimately, vengeance. 

Vividly written and ambitious in scope, The Taster examines the harrowing moral dilemmas of war in an emotional story filled with acts of extraordinary courage.
 
Praise for V.S. Alexander's The Magdalen Girls
 
"Fans of Barbara Davis and Ashley Hay will enjoy this tenderhearted story of sinner, saints, and redemption."
--Booklist
 
"Alexander has clearly done his homework. Chilling in its realism, his work depicts the improprieties long abandoned by the Catholic Church and only recently acknowledged. Fans of the book and film Philomena will want to read this." --Library Journal
Praise For The Taster…
"An absorbing, well-researched story that brings to life an extraordinary period in history, told from within the inner circle of one of the twentieth-century's most notorious characters." —Gill Paul, USA Today bestselling author of The Secret Wife
 
"Alexander tells the thrilling stories of Magda's rise through the upper echelon of Nazi loyalists, the intrigue and rumors swirling around the German war effort, and the downfall of the party, in 1945. He does not glorify Hitler and the horrors of the Nazis but marries history and fiction in an attempt to humanize the citizens swept up in the turbulence of the times. This haunting and engrossing novel will appeal to fans of Anthony Doerr and Kristin Hannah." —Booklist
 
"Alexander's intimate writing style gives readers openings to wonder about what tough decisions they would have made in Magda's situation. The 'taster's' story adds to a body of nuanced World War II fiction such as Elizabeth Wein's Code Name Verity, Anthony Doerr's All the Light We Cannot See, and Tatiana de Rosnay's Sarah's Key. Book clubs and historical fiction fans will love discussing this and will eagerly await more from Alexander." —Library Journal
 
"Alexander sweeps readers into a different WWII novel, exploring the inner circle at Hitler's mountain retreat through the eyes of a German girl. This well-researched novel allows readers an intimate glimpse into Hitler's mental state, Eva Braun's place in his life, and his war strategies. Alexander deliberately changes what could be a tense portrait of the era into a calm picture of the bucolic lifestyle of the retreat. Yet, readers still feel the tension between the Nazis, the ordinary German people, and the resistance, as one woman is caught in a mora dilemma with only her courage to keep her alive. Certainly, this book is an interesting reimagining of a key moment in history." —RT Book Reviews, 4 Stars
 
"A totally gripping and credible imagining of how a young German woman was affected by the building chaos and cruelty during the late stages of Hitler's rule. It gains its power through the very special perspective of its main character, who is also the narrator…Through her, Mr. Alexander creates an impressive and engaging novel that humanizes historical events and provides the rich texture of a life meeting momentous challenges in momentous times. The Taster has a few similarities with his earlier The Magdalen Girls. Both involve a community of women living in severely confined situations. Both offer an unusually complex, nuanced rendering of a young woman's personality (unusual, that is, for a male writer). And both demonstrate a great talent for blending recovered fact with vivid imagination." —Florida Weekly
Kensington, 9781496712271, 336pp.
Publication Date: January 30, 2018
About the Author
V.S. Alexander is an ardent student of history with a strong interest in music and the visual arts. Some of V.S.'s writing influences include Shirley Jackson, Oscar Wilde, Daphne du Maurier, or any work by the exquisite Brontë sisters. V.S. lives in Florida and is at work on a third historical novel for Kensington.