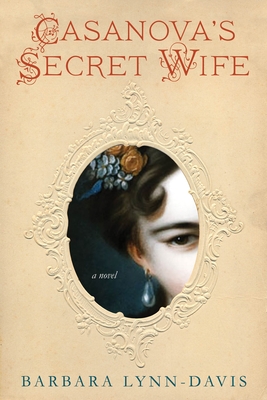 Casanova's Secret Wife
Paperback

* Individual store prices may vary.
Description
"Full of passion and rich historical detail . . . an enthralling read, impossible to put down." —Phyllis T. Smith, bestselling author of I Am Livia and The Daughters of Palatine Hill

"This is Venice beneath the mask: A dark and fascinating love story hiding in the shadows of the golden city." —Marina Fiorato, bestselling author of The Glassblower of Murano

Set in eighteenth-century Venice and based on an actual account by Giacomo Casanova—here is a lush tale of desire and risk, offering a little known portrait of the writer as a young man.

Caterina Capreta was an innocent girl of fourteen when she caught the attention of the world's most infamous chronicler of seduction: Giacomo Casanova. Intoxicated by a fierce love, she wed Casanova in secret. But his shocking betrayal inspired her to commit an act that would mark her forever . . .

Now twenty years later on the island of Murano, the woman in possession of Caterina's most devastating secret has appeared with a request she cannot refuse: to take in a noble-born girl whose scandalous love affair resembles her own. But the girl's presence stirs up unwelcome memories of Caterina's turbulent past. Tested like never before, she reveals the story of the man she will never forget . . .

Bringing to life a fascinating chapter in the history of Venice, Casanova's Secret Wife is a tour de force that charts one woman's journey through love and loss to redemption.

"Seductive and unforgettable" —Harmony Verna, author of Daughter of Australia

"Breathtaking, beautiful . . . will mesmerize readers." —Rosanna Chiofalo, author of Stella Mia
Praise For Casanova's Secret Wife…
"Lynn-Davis admirably incorporates historical detail into this page-turning drama of mystery, love, and loss….Yet the standout is her depiction of Casanova – Lynn-Davis clearly enjoys crafting a real-life character who stands apart from the legend, making him the book's most enduring character." —Publishers Weekly
 
"Lynn-Davis debuts with a fascinating story based on the notorious lover Giacomo Casanova's writings. With Venice as the romantic backdrop and young love as its focus, this stunning tale of passion, betrayal and redemption is a richly woven tapestry of Casanova's early life. By bringing little known history to life, Lynn-Davis delivers an unforgettable love story, centering not only on Casanova, but two women who share the beauty of love and the pain of loss; one will find salvation and the other true happiness." —RT Book Reviews

"Barbara Lynn-Davis' debut novel is a delicious delight, a feast for the senses. . .Well-written and seductive, this book will draw the reader in. Some readers might even stay up until the wee hours to learn what becomes of Caterina and Casanova, surely one of the most passionate love stories of all time." —Historical Novels Review

"This historical novel ... is so well written that you will have a hard time to put it aside." —Venice Insider, 2017 Top 10 pick
Kensington, 9781496712318, 352pp.
Publication Date: July 25, 2017
About the Author
Barbara Lynn-Davis graduated from Brown University with a degree in art history. She then worked at the Peggy Guggenheim Museum in Venice and later spent a year there while completing her Ph.D. in Renaissance art at Princeton University. She currently teaches art history and writing at Wellesley College, and lives outside Boston with her family.
or
Not Currently Available for Direct Purchase