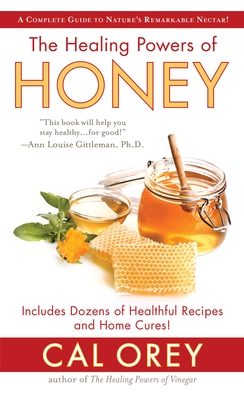 The Healing Powers of Honey (Mass Market)
Kensington, 9781496712547, 416pp.
Publication Date: February 27, 2018
Other Editions of This Title:
Paperback (10/1/2011)
* Individual store prices may vary.
Description
"This book will help you stay healthy . . . for good!" —Ann Louise Gittleman, Ph.D.

Discover Honey's Amazing Bee-Healthy Powers

Did you know?...
 
· Eating honey can help lower the risk of heart disease, cancer, diabetes—even help reduce body fat and unwanted weight!—and increase longevity.
 
· Pure, raw, unprocessed honey is a healthier sweetener than table sugar and high-fructose corn syrup. It's chock-full of antioxidants, minerals, and vitamins—and only has 21 calories per teaspoon.
 
· Honey can relieve a variety of ailments, including allergies, coughs, fatigue, digestive woes, skin problems, pain, and stress, as well as boost libido.
 
Drawing on the latest honey buzz and interviews with medical doctors, beekeepers, and researchers, this enlightening book reveals 30 healing honey varieties, tells you how to incorporate honey into heart-healthy recipes such as Honey Custard French Toast and Honey-Glazed Game Hen, and provides more than 50 home cures, plus beauty treatments and household uses—all made with the amazing honey bee's gifts!
 
 
"This eye-opening book provides you with a delicious truth of the traditional Mediterranean diet: Honey is a sumptuous route to optimal health."
—Dr. Will Clower, author of The French Don't Diet Plan 
About the Author
Cal Orey, M.A., is an accomplished author and journalist. She has a master's degree in English from San Francisco State University, and for three decades has written hundreds of articles for national and international magazines. She specializes in topics such as health, beauty, nutrition, relationships, science, and pets. Her books include The Healing Powers of Tea, The Healing Powers of Olive Oil, The Healing Powers of Coffee, The Healing Powers of Honey, The Healing Powers of Chocolate, The Healing Powers of Vinegar, 202 Pets' Peeves, and Doctors' Orders. She lives in northern California. Readers are invited to visit her website at www.calorey.com, read her blog The Writing Gourmet at calorey.blogspot.com, find her on Facebook, and follow her on Twitter.
or
Not Currently Available for Direct Purchase