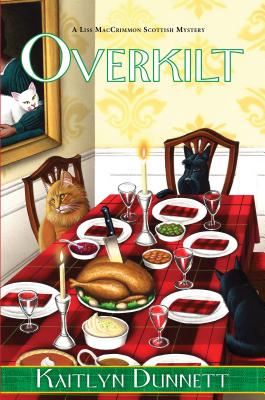 Overkilt (A Liss MacCrimmon Mystery #12) (Hardcover)
Kensington, 9781496712622, 304pp.
Publication Date: October 30, 2018
Other Editions of This Title:
Mass Market (8/27/2019)
* Individual store prices may vary.
Description
Liss MacCrimmon's meddlesome mother is back in Moosetookalook, Maine, to serve a hefty portion of trouble in time for Thanksgiving. But when a scandalous murder case threatens to leave Liss alone at the table, family drama takes on a terrifying new meaning . . . 
 
While Liss preps the Scottish Emporium for November's inevitable shopping rush, other local businesses aren't half as lucky. Year after year, her father-in-law's rustic hotel can barely turn a profit during the stretch between autumn's peak and ski season. Except this time, Mr. Ruskin realizes that the recipe for success lies in enticing an untapped niche clientele—childless couples desperate for a holiday away from family . . .
 
The unusual marketing tactic has everyone in Moosetookalook talking. Unfortunately, it also inspires a scathing social media campaign aimed at persuading tourists to boycott the hotel for affronting family values. Liss dismisses the bad publicity as being totally "overkilt"—until angry mobs fill the streets, the troublemaker who started it all turns up dead, and her loved ones are suspected of murder . . . 
 
With so much at stake, Liss can't possibly follow police orders to stay out of the investigation. There's just one wee problem: saving her own clan could mean sending a friend or two behind bars. Now—partly helped, partly hindered by her difficult mother—Liss must digest a slew of unsettling clues and catch the real killer . . . or else everything she's ever been thankful for may vanish before her eyes.
About the Author
KAITLYN DUNNETT first caught the Scottish heritage bug when her husband learned to play the bagpipes. Many Scottish festivals and parades later, and after a brief stint as bass drummer with a bagpipe band, she decided to combine her love of things Scottish with her love of writing. The Liss MacCrimmon mysteries are the result. Kaitlyn lives in the mountains of western Maine and can be reached through her website at www.kaitlyndunnett.com.
Praise For Overkilt (A Liss MacCrimmon Mystery #12)…
Praise for Kaitlyn Dunnett's Overkilt:

"En route to a surprising solution, Dunnett successfully keeps the mystery cozy while not shying away from thought-provoking cultural issues." —Publishers Weekly 

"Overkilt is an engrossing story of an intelligent woman—and, surprisingly, her side-kick mother—champing at the bit to solve a crime while the authorities prefer they keep their noses out of it." —Criminal Element

Praise for Kaitlyn Dunnett's previous mystery, Crime & Punctuation:

"Entertaining . . . Cozy fans will be pleased." —Publishers Weekly

"The signature cozy style of Dunnett's Liss MacCrimmon series translates easily to this editorially focused new venture." —Kirkus Reviews
 
"If you consider yourself a word nerd or grammar guru, this is a book you need to check out!" —RT Book Reviews
 
"This first in series is nicely done with good characterizations." —Booklist
 
"I've been waiting for [this]…and it's finally out…yay!!  I love the title, love-love-love the cover, and the Deadly Edits series concept is so fun….Kaitlyn Dunnett is such a good writer—one of my favorites! I'm already hooked." —Kate Carlisle, New York Times bestselling author.

"An utter delight for language purists as well as fans of cozy mysteries" —Fresh Fiction

"Whoever thought that being an editor could be hazardous to your life? I adored Mikki…. the final reveal at the end was perfection." —I Am, Indeed
 
"Readers … may learn quite a few helpful tips about proper English usage, but they're also going to read an engaging story featuring a main character they're going to love. —Kittling: Books