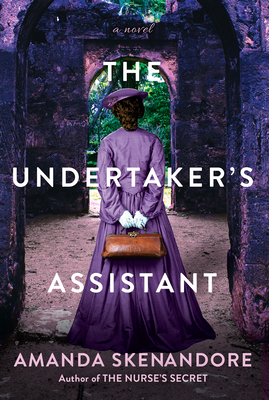 The Undertaker's Assistant
A Captivating Post-Civil War Era Novel of Southern Historical Fiction
Paperback

* Individual store prices may vary.
Other Editions of This Title:
Compact Disc (7/30/2019)
Library Binding, Large Print (12/11/2019)
MP3 CD (7/30/2019)
Description
An enthralling novel of historical fiction for fans of Lisa Wingate and Ellen Marie Wiseman, The Undertaker's Assistant is a powerful story of human resilience set during Reconstruction-era New Orleans that features an extraordinary and unforgettable heroine at its heart.
 
"The dead can't hurt you. Only the living can." Effie Jones, a former slave who escaped to the Union side as a child, knows the truth of her words. Taken in by an army surgeon and his wife during the War, she learned to read and write, to tolerate the sight of blood and broken bodies—and to forget what is too painful to bear. Now a young freedwoman, she has returned south to New Orleans and earns her living as an embalmer, her steady hand and skillful incisions compensating for her white employer's shortcomings.
 
Tall and serious, Effie keeps her distance from the other girls in her boarding house, holding tight to the satisfaction she finds in her work. But despite her reticence, two encounters—with a charismatic state legislator named Samson Greene, and a beautiful young Creole, Adeline—introduce her to new worlds of protests and activism, of soirees and social ambition. Effie decides to seek out the past she has blocked from her memory and try to trace her kin. As her hopes are tested by betrayal, and New Orleans grapples with violence and growing racial turmoil, Effie faces loss and heartache, but also a chance to finally find her place . . .
Praise For The Undertaker's Assistant: A Captivating Post-Civil War Era Novel of Southern Historical Fiction…
Praise for Amanda Skenandore
and Between Earth and Sky
 
"Gripping and beautifully written, Between Earth and Sky tugs at the heart with its dynamic heroine and unique cast of characters. Though this novel brings alive two historical American eras and settings, the story is achingly modern, universal and important."
—Karen Harper, New York Times bestselling author of The It Girls
 
"Intensely emotional. . . . Skenandore's deeply introspective and moving novel will appeal to readers of American history, particularly those interested in the dynamics behind the misguided efforts of white people to better the lives Native American by forcing them to adopt white cultural mores."
—Publishers Weekly
 
"A masterfully written novel about the heart-wrenching clash of two American cultures . . . a fresh and astonishing debut."
—V.S. Alexander, author of The Magdalen Girls and The Taster
 
"By describing its costs in human terms, the author shapes tension between whites and Native Americans into a touching story. The title of Skenandore's debut could refer to reality and dreams, or to love and betrayal; all are present in this highly original novel."
—Booklist
 
"A heartbreaking story about the destructive legacy of the forced assimilation of Native American children. Historical fiction readers and book discussion groups will find much to ponder here."
—Library Journal
 
"At its heart, this luminous book tells a Romeo and Juliet story. But Skenandore's book is so much more than a simple romance. This novel examines the complex relationship between love and loss, culture and conquest, annihilation and assimilation."
—Historical Novel Society
Kensington, 9781496713681, 336pp.
Publication Date: July 30, 2019
About the Author
Amanda Skenandore is a historical fiction writer and registered nurse. Her first novel, Between Earth and Sky, won the American Library Association's Reading List Award for Best Historical Fiction. She lives in Las Vegas, Nevada. Readers can visit her website at www.amandaskenandore.com.