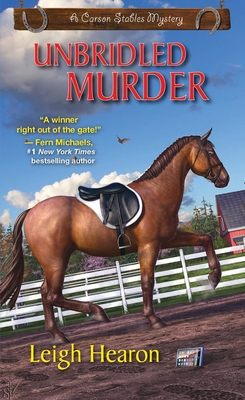 Unbridled Murder (Mass Market Paperbound)
Kensington Publishing Corporation, 9781496714084, 352pp.
Publication Date: December 26, 2017
Description
After horse trainer and rancher Annie Carson visits a feedlot in eastern Washington, she is determined to save as many horses from slaughter as possible before hightailing it back home--until she discovers the sleazy owner seemingly trampled in his corral. With the fate of the feedlot herd in her hands, Annie must navigate unfamiliar territory while trying to track down a killer and solve an increasingly tangled mystery. But unfortunately for Annie, returning to the Olympic Peninsula alive will be trickier than she ever imagined. Praise for Leigh Hearon's Reining in Murder

"Here's a new heroine after my own heart. Plan to stay up all night with this one."
--Fern Michaels, #1 New York Times bestselling author

"This strikingly polished first mystery is, quite simply, remarkable."
--Mystery Scene Magazine
About the Author
Leigh Hearon began her own P.I. agency, Leigh Hearon Investigative Services, in 1992. Her cases have appeared on In the Dead of Night, Forensic Files, 48 Hours, Court TV, City Confidential, Unsolved Mysteries, America's Most Wanted, and CBS Evening News with Connie Chung. Hearon was an avid rider of horses throughout her childhood. She currently has a Saddlebred mare, Jolie Jeune Femme, and enjoys watching Jolie and two rescue mares cavort on a fifty-five-acre farm she shares with her husband. Visit her on the Web at leighhearon.com.
Advertisement