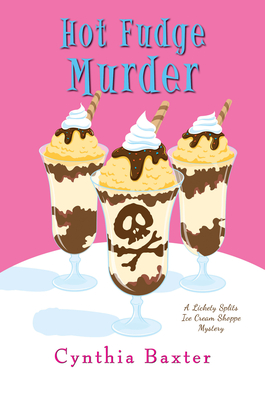 Hot Fudge Murder (A Lickety Splits Mystery #2) (Hardcover)
Kensington, 9781496714152, 256pp.
Publication Date: January 29, 2019
Other Editions of This Title:
Paperback (11/26/2019)
* Individual store prices may vary.
Description
Just six weeks after the grand opening of Lickety Splits Ice Cream Shoppe, owner Kate McKay has been enlisted to whip up sundaes at the most decadent soiree in the Hudson Valley. If only Kate knew how deadly sticky her sweet deal will turn out . . . 
 
Once Kate arrives at a glamorous gala hosted by world-famous fashion designer Omar DeVane, she's instantly intimidated by the mogul's luxurious mansion and the frosty personalities of his handlers. But the party completely loses its flavor when guests follow screams to a room that's eerily empty—except for Omar's freshly murdered body . . . 
 
While the headline-grabbing crime brings a steady stream of journalists to the sleepy village of Wolfert's Roost, Kate knows things won't return to normal until Omar's killer is brought to justice. And with the scandalous case driving customers away from Lickety Splits, she has no choice but to put down the ice cream scooper and expose the culprit on her own . . .
 
As Kate crashes high-profile photo shoots and mingles with fashion's biggest influencers in search of clues, the puzzling truth about Omar's fame and fortune rises to the surface—and with it, the key to his killer's twisted motive. Kate will have to navigate the celebrity lifestyle to save her fledgling business, but her attempts to freeze cold-hearted criminals in their tracks could lead to a double scoop of deadly trouble . . .
 
Includes mouthwatering ice cream recipes from the Lickety Splits Ice Cream Shoppe!
About the Author
CYNTHIA BAXTER is the author of fifty-three novels. Her books have been translated into German, Swedish, and Danish. Born and raised on Long Island, she currently resides on Long Island, New York. Her favorite ice cream flavors are Peach, Coconut, and Chocolate Hazelnut. Readers can visit her website at www.cynthiabaxter.com.
Praise For Hot Fudge Murder (A Lickety Splits Mystery #2)…
Praise for Cynthia Baxter and MURDER WITH A CHERRY ON TOP
 
"Decadent, deadly, and delightful! Murder with a Cherry on Top is a charmer of a cozy mystery. A delicious read that left me hungry for more."
—Jenn McKinlay, New York Times bestselling author
 
"Murder with a Cherry on Top is a sweet treat. I loved everything about the Hudson Valley setting, from the small-town ice cream shop to the organic cows. Cynthia Baxter's characters feel real enough to touch and her descriptions are mouthwatering. This book is best read with a spoon and a tub of ice cream nearby."
—Laurien Berenson, author of Ruff Justice
 
"Ice cream lovers and mystery fans alike will gobble up this charming cozy featuring ice cream store owner and aficionado, Kate McKay. Chock full of mouthwatering ice cream treats, a clever plot twist, and a dollop of romance, Murder with a Cherry on Top is an absolutely yummy read!"
—Laura Levine, author of Death of a Bachelorette
 
"Wake up, Rip Van Winkle! Kate McKay's returned to the Hudson Valley and is mixing up sweet ice cream treats, rekindling an old romance, and solving a sticky murder. Cynthia Baxter's Murder with a Cherry on Top is every bit as delicious as a hot fudge sundae, and I can't wait for a second helping!"
—Leslie Meier, author of Turkey Trot Murder