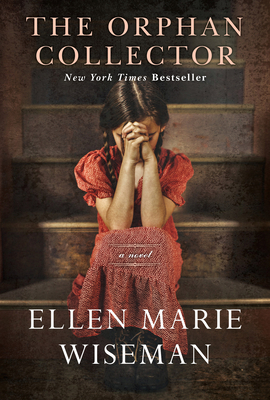 The Orphan Collector (Paperback)
A Novel
Kensington, 9781496715869, 304pp.
Publication Date: July 28, 2020
* Individual store prices may vary.
Description
Ellen Marie Wiseman, acclaimed author of What She Left Behind and The Life She Was Given, weaves the stories of two very different women into a page-turning novel as suspenseful as it is poignant, set amid one of history's deadliest pandemics.   
 
In the fall of 1918, thirteen-year-old German immigrant Pia Lange longs to be far from Philadelphia's overcrowded streets and slums, and from the anti-German sentiment that compelled her father to enlist in the U.S. Army, hoping to prove his loyalty. But an even more urgent threat has arrived. Spanish influenza is spreading through the city. Soon, dead and dying are everywhere. With no food at home, Pia must venture out in search of supplies, leaving her infant twin brothers alone . . .
 
Since her baby died days ago, Bernice Groves has been lost in grief and bitterness. If doctors hadn't been so busy tending to hordes of immigrants, perhaps they could have saved her son. When Bernice sees Pia leaving her tenement across the way, she is buoyed by a shocking, life-altering decision that leads her on a sinister mission: to transform the city's orphans and immigrant children into what she feels are "true Americans."
 
As Pia navigates the city's somber neighborhoods, she cannot know that her brothers won't be home when she returns. And it will be a long and arduous journey to learn what happened—even as Bernice plots to keep the truth hidden at any cost. Only with persistence, and the courage to face her own shame and fear, will Pia put the pieces together and find the strength to risk everything to see justice at last.
About the Author
Born and raised in Three Mile Bay, a tiny hamlet in Northern New York, Ellen Marie Wiseman is a first-generation German American who discovered her love of reading and writing while attending first grade in one of the last one-room schoolhouses in New York state. Since then, her novels have been translated into eighteen languages and published worldwide. A mother of two, Ellen lives on the shores of Lake Ontario with her husband and dogs. Visit her online at www.EllenMarieWiseman.com.
Praise For The Orphan Collector: A Novel…
Outstanding Praise for Ellen Marie Wiseman and The Orphan Collector
 
"The Orphan Collector is an immersive historical tale with chilling twists and turns. Set during the Spanish Flu epidemic in Philadelphia, this atmospheric novel explores the depravity to which some will sink in adversity, but it also illuminates the strength of family bonds and the resilience of the human heart. Beautifully told and richly imagined."
—Stephanie Dray, New York Times bestselling author of America's First Daughter
 
"Ellen Marie Wiseman has done it again: masterfully recreated a time of crisis in American history—rendering the flu epidemic of 1918 to reveal its devastating impact on families and, most especially, children, who too often endure the egregious actions of amoral adults. The Orphan Collector is a story that relentlessly pursues those intent on committing evil deeds and those who have the courage to defy them. A breathtaking examination of family and social systems."
—Jessica Keener, author of Strangers in Budapest
 
"Wiseman's blistering moving and profound novel, set against the devastating backdrop of the 1918 Spanish flu, hones in on an extraordinary exploration of the plight of immigrants, as two very different women grapple with finding, keeping, and changing their place in the world. Absolutely amazing."
—Caroline Leavitt, New York Times bestselling author of With or Without You
 
"A meticulously researched historical novel that unfolds with the pace of a thriller, The Orphan Collector features a main character, a 13-year-old daughter of German immigrants named Pia Lange, who grabs a reader heart and soul. As the flu epidemic hits Philadelphia with savage fury in 1918, Pia's world becomes a nightmare and she uses every ounce of intelligence, resilience, and instinct to not only protect her family but also stay alive. You will be riveted by this story up to the very last page."
—Nancy Bilyeau, author of Dreamland