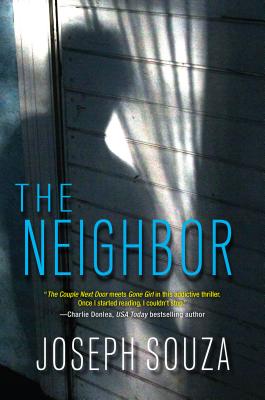 The Neighbor (Hardcover)
Kensington, 9781496716200, 352pp.
Publication Date: April 24, 2018
Other Editions of This Title:
MP3 CD (4/24/2018)
Compact Disc (4/24/2018)
Mass Market (3/26/2019)
* Individual store prices may vary.
Description
"The Couple Next Door meets Gone Girl in this addictive thriller. Once I started reading, I couldn't stop." —Charlie Donlea, USA Today bestselling author

In a taut psychological thriller filled with breathtaking twists, Joseph Souza explores the tangle of betrayal and deception between two neighboring couples, and asks how well we can really know others—or ourselves. 
 
It all seems so promising at the start . . .
 
When Leah and her husband, Clay, move from Seattle to Maine, she envisions a vibrant new neighborhood packed with families—playmates for her twins, new friends she can confide in and bond with. But while Clay works long hours to establish his brewery, Leah is left alone each day in a nearly deserted housing development where the only other occupants are aloof and standoffish.
 
Bored and adrift, Leah finds herself watching Clarissa and Russell Gaines next door, envying their stylishly decorated home and their university careers. But Leah's obsession with the intriguing, elegant Clarissa grows until she's not just spying from afar but sneaking into their house, taking small objects . . . reading Clarissa's diary. It contains clues to a hidden turmoil Leah never guessed at—and a connection to a local college girl who's disappeared. 
 
The more Leah learns about Clarissa, the more questions emerge. Because behind every neighbor's door there are secrets that could shatter lives forever . . .
About the Author
Before launching his writing career, Joseph Souza worked as an intelligence analyst for the Drug Enforcement Agency (Organized Crime Unit) in Washington, D.C. His award‑winning short fiction and essays have been published in literary journals throughout the country. He lives in Portland, Maine, with his wife and two children.
Praise For The Neighbor…
Advance Praise for The Neighbor
 
"The Neighbor is like watching a chain-reaction car wreck happening in slow motion.  Scary and disturbing with dark psychological twists and turns, it horrifies while it fascinates.
 I couldn't turn away!"
—Lisa Jackson, # 1 New York Times bestselling author
 
"A taut, twisty psychological thriller. Totally riveting."
—James Hayman, New York Times bestselling author of The Girl on the Bridge
 
"With its not-so-reliable narrators, brilliant writing and unexpected plot twists, Joseph Souza's The Neighbor might remind you of Gone Girl or The Girl on the Train, but this deliciously sinister thriller is a total original. You'll get hooked early on to this addictive page-turner and find yourself reading The Neighbor with the doors double locked and the shades drawn."
—Kevin O'Brien, New York Times bestselling author

"With pitch-perfect characters, Joseph Souza peels back the good manners, the good educations, and the good work ethics of suburbia in twisted, fascinating revelations of the darkness that dwells within each of us that, untended, will seethe until it explodes.  Unforgettable."
—Gayle Lynds, New York Times bestselling author of The Assassins

"A gloriously creepy setting—ghost town suburbia—where seemingly respectable neighbors hide dirty secrets. You're never quite sure who to believe in this dark, twisted tale."
—Michelle Frances, author of the international bestseller, The Girlfriend

"His unreliable narrators weave such a dark, disturbing tale. As the tension builds, twist after twist makes this impossible to put down."
—Debbie Howells, author of Her Sister's Lie

"Each secret seems to lead to another." —The New York Post Featured in "Required Reading" roundup Sunday April 29, 2018

"The plot is very winding and intriguing, and you will most assuredly hope you never have neighbors like these. Almost every chapter lurches you forward in a twisting sometimes downright scary story." —The Bangor Daily News 

"A subtle powder keg packed into the pages of a domestic thriller." —Bookreporter

"Souza brings us a modern-day novel of psychological suspense that will hook readers in from the start. Souza's stellar storytelling and authentically drawn characters come alive on the page and make for a riveting read. Leah is a compelling, complex character with her shrewdness, inquisitiveness, and slight neurosis. Souza expertly blends her strengths and faults together in a seamless way that makes her a rich, interesting character whom readers will be drawn to. A twisted, chilling ending is the icing on the cake for this thriller that will have readers turning pages until the very end." —RT Book Reviews, 4 Stars