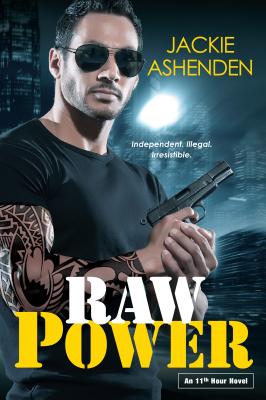 Raw Power (An 11th Hour Novel #1) (Paperback)
Kensington, 9781496716323, 304pp.
Publication Date: February 27, 2018
Other Editions of This Title:
Compact Disc (2/27/2018)
MP3 CD (2/27/2018)
* Individual store prices may vary.
Description
They fought for their country. Now they fight for you.
 
To find the people lost in the shadows, you need the men who live in them. The former soldiers of 11th Hour are unaffiliated, unacknowledged, and definitely illegal. They protect the innocent, destroy the guilty—and capture hearts along the way . . .
 
Rugged, skilled, and hard-bodied, Jack King's whole life was the Marines until an injury left him discharged from active duty. But he finds a new purpose when he's recruited by a special unit that employs ex-military to do very special jobs. Yet he's not impressed when his first assignment is babysitting the pretty, perfect daughter of a politician—especially when she's far from the angel she appears to be . . .
 
Callie Hawthorne hates politics, and she hates playing the part of a senator's goody two shoes daughter even more. It only gets worse when her father decides she needs a security detail 24/7—and the bodyguard happens to be the most insanely hot guy Callie's ever seen. Still, she's not going to be ordered around just because of some half-assed threat to her father. . . . But when it turns out her dad's no angel either, Jack has to kidnap Callie in order to protect her. And as danger closes in, he'll need all his considerable talents to keep them both alive. The greater challenge will be to keep his hands off her . . .
 
Praise for Jackie Ashenden's Dirty for Me
 
"An intense scorcher of a story that is sure to delight fans and win her a legion of new devotees. . . . Unforgettable." —RT Book Reviews, Top Pick

"Tension and heat pervade the frequent sex scenes . . . Readers will eagerly anticipate future installments in the series." —Publishers Weekly
 
"Explosively sexy."  —Heroes & Heartbreakers 
About the Author
Jackie Ashenden lives in Auckland, New Zealand, with her husband, the inimitable Dr. Jax, two kids and two cats. When she's not torturing alpha males and their stroppy heroines, she can be found drinking chocolate martinis, reading anything she can lay her hands on, posting random crap on her blog, or being forced to go mountain biking with her husband. Jackie also writes the dark, sexy contemporary Nine Circles romance series for St. Martin's Press. Visit her at jackieashenden.com.
Praise For Raw Power (An 11th Hour Novel #1)…
Praise for Jackie Ashenden:

"Ashenden tells a powerful story of two tormented souls finding each other in this good, fast read with rough, graphic, and enjoyable sex. A winning start of a very interesting series."
—Booklist on Raw Power

"The third Motor City Royals novel once again sees Ashenden challenging convention to create a dark, complex tale that series fans will no doubt savor. Ashenden is a master at crafting romances full of blistering tension and overwhelming passion . . . Readers will find much to like here, particularly Ashenden's prose, which manages to cut right to her characters' hearts with seeming effortlessness." —RT Book Reviews on Sin For Me

"An explosively sexy start to the Motor City Royals series. With this beginning, there's no telling what other surprises Ashenden has in store."
—Heroes & Heartbreakers on Dirty For Me

"Ashenden, a veteran author of the steamy and sensual contemporary, launches a Detroit-based series that plays to her strengths and readers' tastes. Tension and heat pervade the frequent sex scenes . . . the damaged protagonists are easy to cheer for.  Readers will eagerly anticipate future installments in the series."
—Publishers Weekly on Dirty For Me

"An intense scorcher of a story that is sure to delight fans and win her a legion of new devotees . . .  Unforgettable."
—RT Book Reviews, TOP PICK, on Dirty For Me