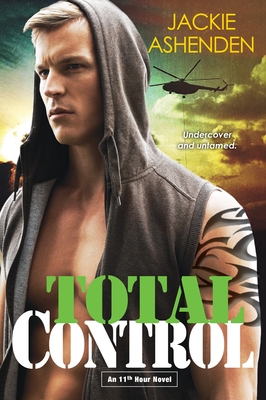 Total Control (An 11th Hour Novel #2) (Paperback)
Kensington, 9781496716347, 304pp.
Publication Date: June 26, 2018
Other Editions of This Title:
MP3 CD (6/26/2018)
Compact Disc (6/26/2018)
* Individual store prices may vary.
Description
Once they were soldiers. Now they answer only to honor . . .
 
The 11th Hour is made up of men and women who are no longer deemed fit to serve their country, but still need to fight a war. They work in shadows, keep their secrets—and follow their hearts . . .
 
Helicopter pilot Kellan Blake has always hated being told what to do, so being discharged from the army for insubordination doesn't come as much of a surprise. What does surprise him is that when he joins up with the elite, underground 11th Hour squad instead, they send him straight home. The nest of vipers that calls itself his family is the next target for the team's tech unit, so he'll either have to brave their traps and deceptions himself—or watch his sweet, shy friend Sabrina walk into them alone . . .
 
Sabrina's no femme fatale, but since there's no one else with the tech skills to get the info they need, she'll put on a party dress and take one for the team. But whoever decided she should pretend to be Kellan's new fiancée hit a little too close to home. How can she concentrate on a dangerous mission when she's worried about giving away what she really feels for her loyal, passionate, smoking hot partner? At least she isn't likely to blow their cover. Until she's in the line of fire, and neither Kellan's demons nor his heart are hers to tame . . .
 
Praise for Jackie Ashenden's Dirty for Me
 
"An intense scorcher of a story that is sure to delight fans and win her a legion of new devotees. . . . Unforgettable." —RT Book Reviews, Top Pick

"Tension and heat pervade the frequent sex scenes . . . Readers will eagerly anticipate future installments in the series." —Publishers Weekly
 
"Explosively sexy."  —Heroes & Heartbreakers 
About the Author
Jackie Ashenden lives in Auckland, New Zealand, with her husband, the inimitable Dr. Jax, two kids and two cats. When she's not torturing alpha males and their stroppy heroines, she can be found drinking chocolate martinis, reading anything she can lay her hands on, posting random crap on her blog, or being forced to go mountain biking with her husband. Jackie also writes the dark, sexy contemporary Nine Circles romance series for St. Martin's Press. Visit her at jackieashenden.com.
Praise For Total Control (An 11th Hour Novel #2)…
Praise for Jackie Ashenden:

"Ashenden tells a powerful story of two tormented souls finding each other in this good, fast read with rough, graphic, and enjoyable sex. A winning start of a very interesting series."
—Booklist on Raw Power

"The third Motor City Royals novel once again sees Ashenden challenging convention to create a dark, complex tale that series fans will no doubt savor. Ashenden is a master at crafting romances full of blistering tension and overwhelming passion . . . Readers will find much to like here, particularly Ashenden's prose, which manages to cut right to her characters' hearts with seeming effortlessness." —RT Book Reviews on Sin For Me

"An explosively sexy start to the Motor City Royals series. With this beginning, there's no telling what other surprises Ashenden has in store."
—Heroes & Heartbreakers on Dirty For Me

"Ashenden, a veteran author of the steamy and sensual contemporary, launches a Detroit-based series that plays to her strengths and readers' tastes. Tension and heat pervade the frequent sex scenes . . . the damaged protagonists are easy to cheer for.  Readers will eagerly anticipate future installments in the series."
—Publishers Weekly on Dirty For Me

"An intense scorcher of a story that is sure to delight fans and win her a legion of new devotees . . .  Unforgettable."
—RT Book Reviews, TOP PICK, on Dirty For Me