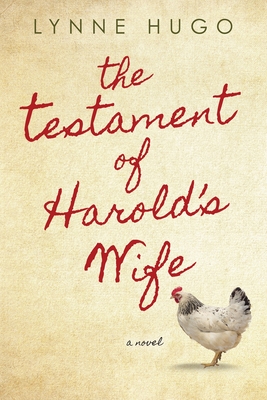 The Testament of Harold's Wife (Paperback)
Kensington, 9781496716682, 304pp.
Publication Date: September 25, 2018
Other Editions of This Title:
Library Binding, Large Print (2/6/2019)
* Individual store prices may vary.
Description
From award-winning author Lynne Hugo comes a witty, insightful, refreshingly unsentimental novel about one woman's unconventional path from heartbreak to hope . . .
 
After losing her husband, Harold, and her beloved grandson, Cody, within the past year, Louisa has two choices. She can fade away on her Indiana family farm, where her companionship comes courtesy of her aging chickens and an argumentative cat. Or, she can concoct A Plan. Louisa, a retired schoolteacher who's as smart, sassy, and irreverent as ever, isn't the fading away type.
 
The drunk driver who killed Cody got off scot-free by lying about a deer on the road. Harold had tried to take matters into his own hands, but was thwarted by Gus, the local sheriff. Now Louisa decides to take up Harold's cause, though it will mean outsmarting Gus, who's developed an unwelcome crush on her, and staying ahead of her adult son who's found solace in a money-draining cult and terrible art.
 
Louisa's love of life is rekindled as the spring sun warms her cornfields and she goes into action. But even the most Perfect Plans can go awry. A wounded buck, and a teenage boy on the land she treasures help Louisa see that the enduring beauty of the natural world and the mystery of human connection are larger than revenge . . . and so is justice.
 
"I adored this fun yet poignant book."
—Diane Chamberlain, New York Times bestselling author of The Stolen Marriage
About the Author
Lynne Hugo is the author of eight novels. She is a National Endowment for the Arts Fellowship recipient who has also received grants from the Ohio Arts Council and the Kentucky Foundation for Women. Where the Trail Grows Faint, about animal‑assisted therapy in a nursing home with a lively Lab, won the Riverteeth Literary Nonfiction Book Prize. Her recent novels were A Matter of Mercy, which received the 2015 Independent Publishers Silver Medal for Best North‑East Fiction, and Remember My Beauties. Born and educated in New England, Lynne and her husband now live in Ohio with Scout, a yellow Lab feared by squirrels in three states. You're warmly invited to visit LynneHugo.com.
Praise For The Testament of Harold's Wife…
"Grief can make a woman a little crazy, but it can also make her very entertaining! The Testament of Harold's Wife is part romp, part suspense, but above all, a love story. I adored this fun yet poignant book." —Diane Chamberlain, NY Times bestselling author of The Stolen Marriage

"The Testament of Harold's Wife is a glorious—and unique—tale of tragedy, resilience, and one kick-ass grieving widow and grandmother. I laughed, cried, and cheered as Louisa talked to her pet chickens, splashed bourbon in her tea, hid 'Glitter Jesus' around the house, and wrestled with revenge. Louisa captured my heart, and I will never forget her." —Barbara Claypole White, bestselling author of The Perfect Son and The Promise Between Us
 
"At the center of this moving, transcendent novel is the unforgettable Louisa. Perceptive, wry, full of righteous fury and enlarged by deep compassion...I promise you will miss her when you turn the last page. The story itself—flawlessly written and genuine to the core—takes an unflinching look at how we survive shattering tragedy and pointless cruelty and  continue to love the world. Its startling life-affirming conclusion will haunt me for a long time." —Patry Francis, award-winning author of The Orphans of Race Point
 
"Perhaps the toughest and bravest way to survive tragedy is by bearing up. In The Testament of Harold's Wife, after losing her husband and grandson, Louisa weathers catastrophe through hard-fought wisdom, humor, and revenge served cold—fueled by a side of hot bourbon. I never left her side as she proved reinvention is possible at any age." —Randy Susan Meyers, bestselling author of The Widow of Wall Street 
 
"The Testament of Harold's Wife is a richly told tale that explores the human/animal connection and the journey to get past tragedy. Louisa, the spunky, elderly narrator delivers a tender hymn of hope and rebirth that stays with you long after the last page." —Kim Michele Richardson, author of The Sisters of Glass Ferry
 
"Lynne Hugo's delightful page turner, The Testament of Harold's Wife, is fast-paced, unexpectedly poignant, and fun. Louisa's utterly winning voice propels us at breakneck speed. As a woman who has seen it all and lost it all, Louisa will take her place in the pantheon of unforgettable characters. You may never see an older woman in quite the same way again. This gorgeous new book, with its swiftly moving plot and subversive humor will stay with you long after you have finished the final page." —Laura Harrington, bestselling author of Alice Bliss and A Catalog of Birds

"Hugo's latest is a sweet, sad, funny, meditation on the nature of aging and grief…This is a novel that would fit right in on the shelf next to novels like A Man Called Ove and similar books that balance humor and heartbreak." —Booklist 

"I found a kindred spirit in Louisa, a somewhat eccentric, aging, bereaved woman who finds solace in conversing with her chickens. Her heart is empty and her rage is full. Relatable. Loss does that to you… The warp and the weft of Lynne Hugo's characters in The Testament of Harold's Wife are woven into a rich, tapestry of life, where the irreverent, unconventional, quirky 'flaws' become the very thing that make it absolutely perfect, and fills one with a sense of hope." —Delilah, Delilah's Book Club Pick

"A widower takes up her late husband's mission to get revenge on the man who killed their grandson in the gripping latest from Hugo…Louisa is a charming protagonist." —Publishers Weekly (A PW Online Exclusive Review)

"Suspended between heartbreak and hilarity, readers are sure to find emotional common ground in this story of an engaging elderly widow who sets her sights on revenge after the devastating loss of her husband and grandson, but unexpectedly finds hope, healing, and the possibility of a happy future… Lynne Hugo's character building is superb… The plot is propelled forward at a good pace, and readers will be compelled to turn the pages as Louisa speaks with candor, wisdom and keen insight about her thoughts on life, The Plan, and her relationships with those around her… A winning and wonderful novel, with a unique and distinctive storyline, there is a little bit of magic for everyone within the pages of this book." —The New York Journal of Books

"The Testament of Harold's Wife comes with a bounciness and light touch that surprises and delights…[as it] takes on the theme of survival, of hanging on…The results are poignant, but Hugo delivers a fresh blend of pathos and humor. The text is leavened by Harold's wife, Louisa's, tart observations on life and the failings of those around her, bless their hearts."
—Wilmington StarNews