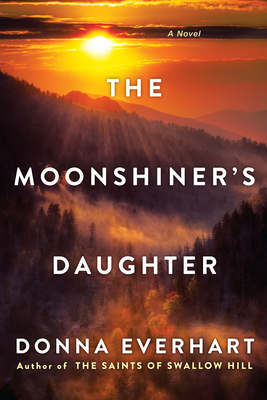 The Moonshiner's Daughter
A Southern Coming-of-Age Saga of Family and Loyalty
Paperback

* Individual store prices may vary.
Description
If you fell in love with 1960s North Carolina when reading Where the Crawdads Sing by Delia Owens, Donna Everhart's The Moonshiner's Daughter will transport you right back. Everhart's sensitive and expert storytelling will capture you in this Southern coming-of-age novel!
 
Set in North Carolina in 1960 and brimming with authenticity and grit, The Moonshiner's Daughter evokes the singular life of sixteen-year-old Jessie Sasser, a young woman determined to escape her family's past . . .
 
Generations of Sassers have made moonshine in the Brushy Mountains of Wilkes County, North Carolina. Their history is recorded in a leather-bound journal that belongs to Jessie Sasser's daddy, but Jessie wants no part of it. As far as she's concerned, moonshine caused her mother's death a dozen years ago.
 
Her father refuses to speak about her mama, or about the day she died. But Jessie has a gnawing hunger for the truth—one that compels her to seek comfort in food. Yet all her self-destructive behavior seems to do is feed what her school's gruff but compassionate nurse describes as the "monster" inside Jessie.
 
Resenting her father's insistence that moonshining runs in her veins, Jessie makes a plan to destroy the stills, using their neighbors as scapegoats. Instead, her scheme escalates an old rivalry and reveals long-held grudges. As she endeavors to right wrongs old and new, Jessie's loyalties will bring her to unexpected revelations about her family, her strengths—and a legacy that may provide her with the answers she has been longing for.
Praise For The Moonshiner's Daughter: A Southern Coming-of-Age Saga of Family and Loyalty…
PRAISE FOR THE NOVELS OF DONNA EVERHART
 
THE FORGIVING KIND
 
"Reminiscent of the novels of Lee Smith, Kaye Gibbons, and Sandra Dallas, Everhart builds a firm sense of place, portraying the tiredness and hope of a dry southern summer and voicing strong southern women."
—Booklist
 
 
THE ROAD TO BITTERSWEET
A Winter 2018 Okra Pick!
 
 "You will fall in love with Wallis Ann Stamper as she meets the bitter challenges of her hardscrabble life, inspired by her sweet love for her family. Her grit and unfailing faith in herself will melt your heart, as it did mine."
—Sandra Dallas, New York Times bestselling author
 
"Everhart is a good storyteller and makes her characters and their experiences come alive."
—Booklist
 
"The book is Southern fiction at its finest."
—Historical Novels Society
 
THE EDUCATION OF DIXIE DUPREE
An Indie Next List Selection!
 
"Please open your heart to Dixie Dupree. With unflinching honesty and a voice that rings with authenticity, she survives the unthinkable. Her story celebrates the resiliency of the human spirit and the triumph of the imagination. An important novel, beautifully written, this is a story to cherish."
—Susan Wiggs, #1 New York Times bestselling author
 
 "Young Dixie Dupree is an indomitable spirit in this coming-of-age novel that is a heartbreaking and honest witness to the resilience of human nature and the fighting spirit and courage residing in all of us."
—The Huffington Post
 
"In a powerful coming‑of‑age story that pitches southern charm against dark family secrets, the voice of 11‑year‑old Dixie Dupree captivates from the first page to the last."
—Barbara Claypole White, bestselling author of The Perfect Son
Kensington, 9781496717023, 368pp.
Publication Date: December 31, 2019
About the Author
Donna Everhart is a USA Today bestselling author who writes stories of family hardship and troubled times in a bygone South. A native of North Carolina, she resides in her home state with her husband and their tiny heart-stealing Yorkshire terrier, Mister. Readers can visit her at www.donnaeverhart.com.