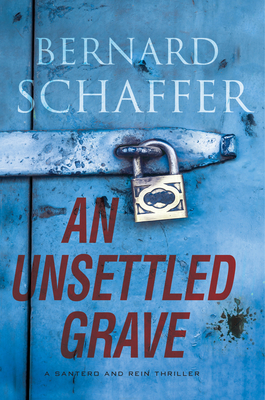 An Unsettled Grave (A Santero and Rein Thriller #2) (Hardcover)
Kensington, 9781496717252, 288pp.
Publication Date: July 30, 2019
Other Editions of This Title:
Compact Disc (7/30/2019)
Mass Market (3/31/2020)
* Individual store prices may vary.
Description
In this brilliantly chilling follow-up to The Thief of All Light, veteran police officer Bernard Schaffer digs deep into the past—and the haunted psyches of the detectives who search for truth . . . at any cost.

 "There's a thousand scavengers in these woods."

Before being promoted to detective, Carrie Santero was given a rare glimpse into the mind of a killer. Through her mentor, Jacob Rein—a seasoned manhunter whose gift for plumbing the depths of madness nearly drove him over the brink—she was able to help capture one of the most depraved serial killers in the country. Now, the discovery of a small human foot buried in the Pennsylvania woods will lead her to a decades-old cold case—and the darkest secrets of her mentor's youth.

"Nobody trusts an animal that tries to eat its own kind."

Thirty years ago, a young girl went missing. A police officer was murdered. Another committed suicide. The lives of everyone involved would never be the same. For three agonizing decades, Jacob Rein has yearned for the truth. But when Detective Carrie Santero begins digging up new evidence, she discovers some answers come with shattering consequences.
About the Author
Bernard Schaffer launched his Santero and Rein series with the widely acclaimed thriller The Thief of All Light.  A full-time police detective, he is a decorated criminal investigator, narcotics expert, and child forensic interviewer. Schaffer, a father of two, is the author of numerous independently published books and series. He lives and works in the suburbs of Philadelphia, PA. Visit him @BernardSchaffer or www.bernardschaffer.com.
Praise For An Unsettled Grave (A Santero and Rein Thriller #2)…
Praise for An Unsettled Grave:
 
"The past that alternating chapters present reveals a far different story than official records. Schaffer, a former police officer, imbues the character-driven story with realism and heart-pounding suspense." 
—Kirkus Reviews 
 
"An Unsettled Grave is intense and exciting with edge-of-your-seat suspense. Bernard Schaffer took his characters Santero and Rein and brought them to the next level. The past and present converge in this unstoppable thriller. You won't be able to put this book down!" 
—Matthew Farrell, bestselling author of What Have You Done 
 
"Schaffer's An Unsettled Grave is masterful storytelling at its best." 
—Bruce Robert Coffin, bestselling author of the Detective Byron Mysteries
 
"Bernard Schaffer's second installment of his Santero and Rein series opens with a punch in the gut and doesn't let up. Pulse pounding, hard hitting, and all too real, this book will stick with you long after you read the last sentence.  Schaffer knows what drives police officers. His visceral writing taps into Carrie's duty to the truth and Rein's haunted past. He pulls you into their world and takes you down their dark paths until justice is done—no matter how long it takes. A frank, gritty, and unnerving police procedural. Not to be missed." 
—Lissa Marie Redmond, author of A Cold Day in Hell
 
"I was hooked on the story right from the start. Once you start reading, you won't even notice the time passing. I read it until 2 am to finish it, as I couldn't put it down. Overall, I thoroughly enjoyed An Unsettled Grave, and I will keep an eye out for the author's further books in the series." 
—Mystery Sequels