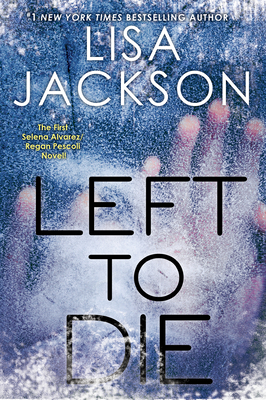 Left To Die (An Alvarez & Pescoli Novel #1) (Paperback)
Kensington, 9781496717313, 432pp.
Publication Date: October 29, 2019
Other Editions of This Title:
Mass Market (8/1/2008)
* Individual store prices may vary.
Description
From #1 New York Times bestselling author Lisa Jackson comes the chilling, riveting novel that first introduced Detectives Selena Alvarez and Regan Pescoli, hunting for a serial killer who is both savior and executioner…
 
In the lonely woods around Grizzly Falls, Montana, the first body is discovered, stripped naked and tied to a tree. Alvarez and Pescoli have been hoping for a career-making case, but this is a nightmare. The killer stages car accidents on icy, isolated roads and "rescues" his victims. He toys with them, heals them, earns their trust . . . before subjecting them to a slow, agonizing death.
 
When Jillian Rivers opens her eyes, she's trapped in a mangled car. Then a stranger, claiming to be a trail guide, pries her free. Though she's grateful, something about him sets Jillian on edge. And if she knew what was lying in wait for her, she'd be truly terrified . . .
 
Even with the FBI involved, Selena and Regan have nothing to go on but a series of cryptic notes, and the unsettling knowledge that there is much worse to come. Piece by piece, the killer's brutal plan is taking shape. But his final move will be the most shocking—and personal—of all . . .
About the Author
LISA JACKSON is the #1 New York Times bestselling author of more than seventy-five novels, including Paranoid; Liar, Liar; One Last Breath; You Will Pay; After She's Gone; Close to Home; Tell Me; Deserves to Die; You Don't Want to Know; Running Scared; and Shiver. She has over thirty million copies of her books in print in nineteen languages. She lives with her family and three rambunctious dogs in the Pacific Northwest. Readers can visit her website at www.lisajackson.com and find her on Facebook.