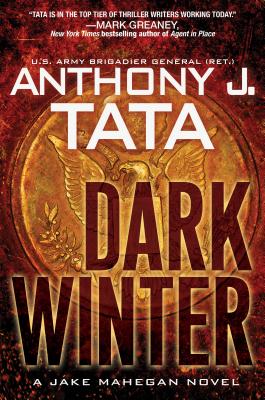 Dark Winter (A Jake Mahegan Thriller #5) (Hardcover)
Kensington, 9781496717900, 464pp.
Publication Date: October 30, 2018
Other Editions of This Title:
Mass Market (9/24/2019)
Compact Disc (10/30/2018)
Pre-Recorded Audio Player (2/1/2019)
* Individual store prices may vary.
Description
In a blistering scenario almost too close to the headlines, former Brigadier General Anthony J. Tata delivers a chillingly authentic glimpse of tomorrow's wars—and the anonymous hackers who hold the fate of the world at their fingertips . . .
 
By the time anyone realizes what's happening, it is too late. A dark network of hackers has infiltrated the computers of the U.S. military, unleashing chaos across the globe. U.S. missiles strike the wrong targets. Defense systems fail. Power grids shut down. Within hours, America's enemies move in. Russian tanks plow through northern Europe. Iranian troops invade Iraq. North Korean destroys Seoul and fires missiles at Japan.
 
Phase 1 of ComWar is complete.
 
Enter Jake Mahegan and his team of highly trained operatives. Their mission is to locate the nerve center of ComWar—aka Computer Optimized Warfare—and to shut down the operation through any means necessary. Mahegan knows it's a virtual suicide mission. There are three ComWar headquarters, each hidden deep underground in Russia, Iran, and North Korea. Each contains a human biometric nuclear key that the team must capture to shut down the imminent nuclear strikes. Splitting up the team is Mahegan's only chance to prevent the next wave of cyber attacks. But even that won't stop the sleeper cell agents—here in the United States . . .
 
When Phase 2 ends, World War III begins.
About the Author
Brigadier General Anthony J. Tata, U.S. Army (Retired), is the national bestselling author of Direct Fire, Reaper Ghost Target, Besieged (a Publishers Weekly Top 10 Best Mystery/Thriller of 2017), Three Minutes to Midnight, Foreign and Domestic, and the Threat series. During his active duty military career, he commanded combat units in the 82nd and 101st Airborne Divisions and the 10th Mountain Division. His last combat tour was in Afghanistan in 2007 where he earned the Combat Action Badge and the Bronze Star Medal. He is a frequent foreign policy guest commentator on Fox News, CNN, and One America News Network's Tipping Point with Liz Wheeler. Previously, General Tata served as the Secretary of Transportation of North Carolina, Superintendent of Schools for Wake County Public School System, and Chief Operating Officer of Washington, DC, Public Schools.  
Brigadier General Tata donates a portion of his earnings to the USO Metro DC, the North Carolina Heroes Fund, and the Michael Murphy Foundation.
Praise For Dark Winter (A Jake Mahegan Thriller #5)…
"Tata has taken elements of the world's political stage and mixed them brilliantly with a virtual treatise on cybersecurity. Throw in a charismatic villain steering the game, and you have all the elements in place for a classic, high-adventure technothriller. The open-ended conclusion will leave readers hanging, but that will only make them wish that Tata could please write faster. This is the best thriller yet by the former brigadier general." —Booklist STARRED REVIEW on Dark Winter

"Rousing…. Tata excels at jet-fueled action and scenes in which the principals discuss fascinating global war strategy."  —Publishers Weekly on Dark Winter
 
"Responding to a U.S. military computer-system failure, an elite group of American operatives must prevent pending nuclear strikes. Retired U.S. Army Brig. Gen. Tata (Direct Fire, 2017, etc.) brings back Jake Mahegan for another realistic, high-stakes military adventure.  …the narrative is believable, and the main characters… get into copious amounts of action. A very readable and contemporary military action story. " —Kirkus Reviews on Dark Winter

"If you are a fan of military thrillers who likes the action peppered with authentic weapons details like the proper model of Apache helicopter in use or the muzzle velocity of an AK-47 aimed at the hero and his lady, there's a new cliff-hanging dystopian tale you'll want to put on your "to read" list. Retired General Anthony J. Tata is back with a new challenge for his hunky hero Jake Mahegan. This time, Mehegan is up against a Messianic supervillain who is also a super billionaire. A self-taught coder who's forgotten more about hacking than most experts know, he wants the messy world to adopt his vision for a more orderly existence. His plan: a few massive nuclear explosions here and there to get people's attention as he emerges as their savior. If you got scared by all the stories about Russian hacking of U.S. elections, Tata lays out the ultimate hacking threat: enemy control of nuclear weapons systems. No breathing room here for those who might want to pause the page turning to get some sleep. You won't know how things come out until the very last sentence and won't be satisfied till you get there."
—Patrick Oster, author of "The Hacker Chronicles," a cyber thriller on Dark Winter

"Loved the book. An all too real look into U.S. cyber-security vulnerabilities.  Be warned and get ready, General Tata may have predicted a future attack!" —Jack Carr, author of THE TERMINAL LIST


Praise for A.J. Tata's Jake Mahegan Series:
 
"A riveting look at the terrifying reality of domestic terrorism." —Glenn Beck
 
"A must read for fans of thriller fiction." —Newt Gingrich
 
"Tata writes with a GRIPPING AND GRITTY authority." —Richard North Patterson, #1 New York Times Bestselling Author
 
"ABSOLUTELY FANTASTIC...PULSE-POUNDING." —Brad Thor, #1 New York Times Bestselling Author
 
"An explosive, seat of your pants thriller!" —W.E.B. Griffin, #1 New York Times Bestselling Author
 
"Topical, frightening, possible, and riveting." —James Rollins, New York Times Bestselling Author 

"Powerful and timely. Great stuff!" —John Lescroart, New York Times Bestselling Author
 
"General Tata's story mixes high-threat combat with an intriguing and surprising mystery. Vivid and complex characters make this a fascinating read." —Larry Bond, New York Times Bestselling Author
 
"Grabs you and doesn't let go...written by a man who's "been there," this vibrant thriller will take you to places as frightening as the darkest secrets behind tomorrow's headlines." —Ralph Peters, New York Times Bestselling Author
 
"I thoroughly enjoyed it…well done!" —President George Bush