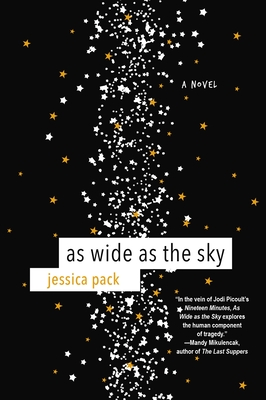 As Wide as the Sky
Paperback

* Individual store prices may vary.
Other Editions of This Title:
Library Binding, Large Print (9/9/2018)
Description
"Characters as rich and indelible as the life they endure . . . A phenomenal read."
—Internationally Bestselling Author Davis Bunn
 
Five a.m.: Amanda Mallorie wakes to the knowledge that her son Robbie is gone. And a new chapter of her own life must begin. She has spent four years as her son's only support, desperately trying to understand the actions that landed him on death row and to change his fate. Now Amanda faces an even more difficult task—finding a way, and a reason, to move forward with her own life.
Before the tragedy that unfolded in a South Dakota mall, Robbie was just like other people's sons or daughters. Sometimes troubled, but sweet and full of goodness too. That's the little boy Amanda remembers as she packs up his childhood treasures and progress reports, and discovers a class ring she's never seen before. Who does it belong to and why did Robbie have it in his possession? So begins a journey that will remind her not only of who Robbie used to be, but of a time when she wasn't afraid—to talk to strangers, to help those in need, to reach out. Robbie's choices can never be unmade, but there may still be time for forgiveness and trust to grow again. For a future as wide as the sky.
Kensington, 9781496718167, 256pp.
Publication Date: July 31, 2018
About the Author
Jessica Pack is a pseudonym for Josi Kilpack, author of twenty-six novels—including the twelve-volume Sadie Hoffmiller culinary mystery series—one cookbook, several novellas, and is a participant in several co-authors projects and anthologies. She is a four-time Whitney award winner, including Novel of the Year, and a recipient of the Utah Best in State for fiction. She is currently writing regency and historical romance, and women's fiction. Josi loves to bake, sleep, read, and travel. She doesn't like to exercise, do yard work, or learn how to do new things but she does them anyway. She and her husband, Lee, are the parents of four children and live in Northern Utah.
1. Each chapter in As Wide as the Sky begins with a timer—minutes, hours, days, months, and years—meant to show a "reset" point in each life of the point-of-view character in that chapter. Were you able to pinpoint what the reset point was for any of the characters?
2. Do you have a "reset" point of your own life?
3. The Kübler-Ross stages of grief are denial, anger, bargaining, depression, and acceptance. Can you match these stages with any of the characters in this story?
4. Did any of the characters in this story particularly stand out to you?
5. Were there any of the secondary characters in this story you would have liked to learn more about?
6. How has your life been affected by forgiveness, either as the giver or the receiver?
7. Do you think you could remain as close to your child as Amanda stayed with Robbie if he or she committed such a heinous crime?
8. How much of Robert Mallorie's crime do you feel was due to his mental illness, and how much because of the choices he made?
9. Have you experienced trauma in your life? If yes, how do you feel it has changed you? How have you found healing?
10. Optional Question: What are your feelings regarding capital punishment?