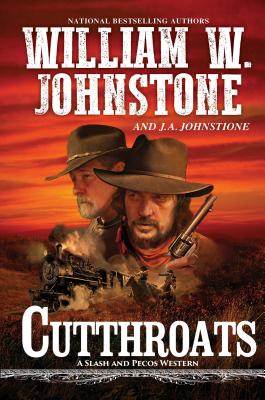 Cutthroats (Hardcover)
Kensington Publishing Corporation, 9781496718594, 400pp.
Publication Date: January 29, 2019
Other Editions of This Title:
Mass Market (6/25/2019)
Compact Disc (6/25/2019)
MP3 CD (6/25/2019)
* Individual store prices may vary.
Description
Not every Western hero wears a white hat or a tin star. Most of them are just fighting to survive. Some of them can be liars, cheaters, and thieves. And then there's a couple of old-time robbers named Slash and Pecos . . .
After a lifetime of robbing banks and holding up trains, Jimmy "Slash" Braddock and Melvin "Pecos Kid" Baker are ready to call it quits, settle downƒ''"ƒ''€ƒ''"though not completely by choice. The youngest members of their old gang, the Snake River Marauders, sell them out to the law. Slash and Pecos have to bust out of jail themselves. Now they're ready to leave their outlaw days behind them and start over where nobody knows them. To finance their retirement, they need to pull one last job . . .
The target is a rancher's payroll train. The plan is to get on board, grab the cash, get out fast. Catch is: the train is carrying a Gatling gun and twenty deputy US marshals who know they're coming. Not that it's hard to recognize Slas.