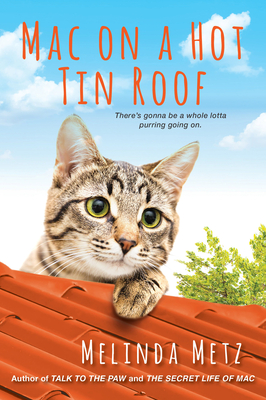 Mac on a Hot Tin Roof (Paperback)
Kensington, 9781496719003, 304pp.
Publication Date: November 26, 2019
Other Editions of This Title:
Compact Disc (11/26/2019)
Library Binding, Large Print (1/1/2020)
* Individual store prices may vary.
Description
Inspired by the true story of a kleptomaniac cat who stole his way into America's heart . . .
 
KITTENS CABOODLE
As a tabby cat with criminal tendencies, MacGyver is always a whisker away from trouble. But when he stumbles upon a litter of four motherless kittens, he really has his paws full. It's clear Mac has to take care of the cuddly little furballs, at least until he finds them each a human. That's not going to be easy though. Not when Mac's the prime suspect in a series of thefts at Storybook Court—and his loving but concerned owners, Jamie and David, have put him under house arrest. As if that could stop a clever cat like Mac . . .
 
HUMANS CANOODLE
With four hungry little mouths to feed—and two local detectives on his tail—MacGyver has his work clawed out for him. He's determined to sniff out the real thief. But when he gets a whiff of romance in the air, he can't resist a little matchmaking, too. One of the detectives seems awfully fond of the aspiring actress who moved into the neighborhood. And his partner looks like she could use a hug, too. With a little help from those adorable kittens, Mac is sure that love will save the day. Because when it comes to stealing hearts, this cat's out of the bag . . .
 
RAVES FOR TALK TO THE PAW
 
"Filled with romance and adorable kitty antics . . . a light and cozy read!"
—Modern Cat
 
"Surpassingly cute story of a matchmaking cat determined to pair off his human with a neighbor through the power of stinky laundry."
—Kirkus Reviews
About the Author
Melinda Metz is the author of the Roswell High series, basis of the hit televison show Roswell. She is an Edgar Award nominee for the Wright and Wong mystery series, written with Laura J. Burns. Melinda lives in North Carolina with her dog Scully, who exhibits some cat-like behaviors—such as seldom coming when she's called.