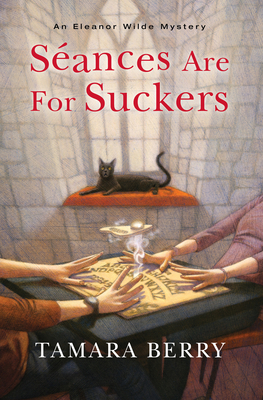 Seances Are for Suckers (An Eleanor Wilde Mystery #1) (Hardcover)
Kensington, 9781496719621, 304pp.
Publication Date: October 30, 2018
Other Editions of This Title:
Compact Disc (10/30/2018)
* Individual store prices may vary.
Description
When something goes bump in the night . . . it's most likely a plumbing problem, or something equally mundane. But fake medium Eleanor Wilde is happy to investigate and cleanse your home of spectral presences—for a fee. Hey, it's a living . . .
 
Ellie has an ailing sister to care for, and working as a ghost hunter who doesn't believe in ghosts helps cover the bills for both of them. When she's lucky, it also pays for the occasional tropical vacation. Her brother doesn't exactly approve, but Ellie figures she's providing a service. On her latest job, though, she may be in for some genuine scares.
 
The skeptical, reserved, and very rich Nicholas Hartford III has flown her all the way to his family's ancestral estate in England—supposedly haunted by a phantom named Xavier. Nicholas thinks it's all just as much a crock as Ellie's business is, but the fact remains that something is causing the flashes of light, mysterious accidents, and other apparent pranks in the chilly, eerie castle. His mother is sure that Xavier is real, and he's willing to employ Ellie if she can get to the bottom of it and put a stop to the nonsense.
 
While the food and accommodations are somewhat disappointing (dorm-room furniture? Really?), Ellie is finding it an adventure to get to know this eccentric family and their houseguests, and to poke around in the nearby village for clues. But when an actual dead body appears—and subsequently disappears—at Castle Hartford, she'll have to apply her talent for trickery and psychological insight to solve a
flesh-and-blood murder.
About the Author
Tamara Berry is a part-time author and part-time freelance writer/editor. She has a B.A. in English Literature from Eastern Washington University. In addition to books, she has mad love for all things TV, movies, and pop culture. Visit her at www.tamaraberry.com.
Praise For Seances Are for Suckers (An Eleanor Wilde Mystery #1)…
"When a saucy pseudo-psychic is hired to rid an ancestral estate of its alleged resident ghost, things are bound to get interesting. Add to that a charming English village, an eccentric family, and a killer on the loose, and Séances are for Suckers delivers a winning blend of mystery and the paranormal, with a little humor and romance thrown in for good measure. Don't miss out on this first in a promising series!"
—Juliet Blackwell, New York Times bestselling author of the Witchcraft Mystery series
 
"A mystery with a haunted castle? What's not to love? Tamara Berry weaves a fun story with likable characters and a plot that kept me guessing until the end."
—Rose Pressey, USA Today bestselling author of the Haunted Vintage Mystery series

"Don't miss out on this first in a promising series!"
—Juliet Blackwell, New York Times bestselling author