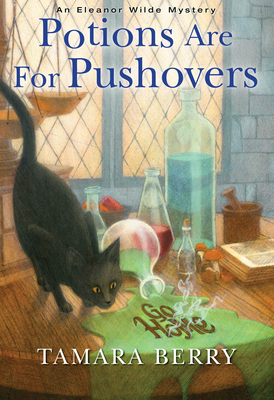 Potions Are for Pushovers (An Eleanor Wilde Mystery #2) (Hardcover)
Kensington, 9781496719638, 288pp.
Publication Date: November 26, 2019
Other Editions of This Title:
Compact Disc (11/26/2019)
Mass Market (10/27/2020)
* Individual store prices may vary.
Description
It may have been a ghost that led Eleanor Wilde to set up shop in a quaint English village. But now that she's established herself as the town witch, Ellie's contentedly casting spells on anyone desperate enough—or gullible enough—to request her mysterious potions…
 
Selling mystical elixirs and tantalizing tonics is a pretty good way for a fake medium to earn a living. Or at least it's Ellie's main source of income—until a villager turns up dead. The cause? Murder by poisoning.  And though Ellie's concoctions don't include anything worthy of a skull and crossbones, suddenly she's the prime suspect. Her only recourse is to find the culprit who did do away with Sarah Blackthorne. No one liked the mean old battle-axe. But did anyone hate her enough to kill her? 
 
It's enough of a mystery to make Ellie hang up her witch's hat and take millionaire beau Nicholas Hartford up on his offer to keep her afloat.  Except Ellie is not the kind of woman to lean on a man—least of all a man she adores but whose place in her life is uncertain. Besides, Ellie's taken on two young witches-in-training—apprentices if you will—and both of them are convinced a werewolf is the murderer.
 
Just as Ellie's wondering if there really is something otherworldly going on, animals suddenly begin to disappear—including her beloved cat, Beast. Now Ellie's on the warpath to uncover the wicked truth about the people and the place she's only just begun to call home…
About the Author
Tamara Berry is a part-time author and part-time freelance writer/editor. She has a B.A. in English Literature from Eastern Washington University. In addition to books, she has mad love for all things TV, movies, and pop culture. Visit her at www.tamaraberry.com.