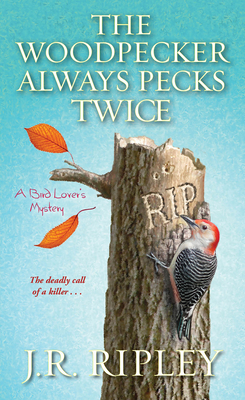 The Woodpecker Always Pecks Twice (A Bird Lover's Mystery #3) (Mass Market)
Kensington, 9781496719720, 320pp.
Publication Date: August 27, 2019
Other Editions of This Title:
Paperback (5/16/2017)
* Individual store prices may vary.
Description
A red-bellied woodpecker may lead to a yellow-bellied killer . . .
 
One morning when unwilling early bird Amy Simms grabs her binoculars for a closer look at the woodpecker who's been waking her up, she can't believe her eyes. Across Ruby Lake, through a curtain of rain, she sees a body being tossed out of an upstairs window at the old McKutcheon place.
 
Or at least she thinks she does. The police chief finds no body—only a discarded dressmaker's dummy—and complains that Amy sent him on a wild-goose chase. She should probably focus on minding her store, Birds & Bees, but Amy can't help snooping. And when she turns up another body—a murdered member of her birdwatching group—Amy once again needs to wing it as a sleuth to zoom in on a killer . . .
About the Author
J.R. Ripley is the pen name of Glenn Meganck, the critically acclaimed author of the Tony Kozol mystery series. As a member of the Mystery Writers of America, he has chaired the Edgar committee for Best Original Paperback novel and served on the Best Short Story Committee. As a member of the International Association of Crime Writers, he has served on the Hammett Award committee for Best Novel. When not writing books, Glenn is writing songs, often singing them to the consternation of his audience and neighbors, or involved in one of his many passions, none of which have involved any of the dead bodies that seem to keep cropping up in his mysteries. For more information about him, visit www.glennmeganck.com.