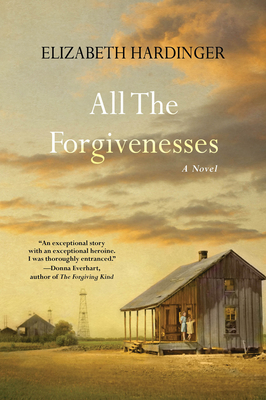 All the Forgivenesses
Hardcover

* Individual store prices may vary.
Other Editions of This Title:
Digital Audiobook (8/26/2019)
Paperback (9/29/2020)
Library Binding, Large Print (12/1/2019)
Description
A Publishers Marketplace Buzz Books selection

Set in Appalachia and the Midwest at the turn of the twentieth century, this exquisite debut novel paints an intimately rendered portrait of one resilient farm family's challenges and hard-won triumphs—helmed by an unforgettable heroine. 
 
Growing up on their hardscrabble farm in rural Kentucky, fifteen-year-old Albertina "Bertie" Winslow has learned a lot from her mama, Polly. She knows how to lance a boil, make a pie crust, butcher a pig, and tend to every chore that needs doing. What she doesn't know, but is forced to reckon with all too soon, is how to look after children as a mother should …
 
When Polly succumbs to a long illness, Bertie takes on responsibility for her four younger siblings and their dissolute, unreliable daddy. Yet no matter how hard she tries to hold the family together, the task is overwhelming. Nine-year-old Dacia, especially, is resentful and stubborn, hinting at secrets in their mama's life. Finally, Bertie makes the only choice she can—breaking up the family for its own survival, keeping the girls with her, sending the boys off to their grown brothers, long gone from home. 
 
Ever pragmatic, Bertie marries young, grateful to find a husband willing to take on the care of her sisters, and eventually moves to the oil fields of Kansas. But marriage alone cannot resolve the grief and guilt she carries over a long-ago tragedy, or prepare her for the heartaches still to come. Only by confronting wrenching truths can she open herself to joy—and learn how to not only give, but receive, unfettered love.
 
Inspired by stories told by the author's mother and aunts, All the Forgivenesses is as authentic as it is lyrical—a captivating novel of family loyalty, redemption, and resilience.
Praise For All the Forgivenesses…
Praise for All the Forgivenesses

A strong protagonist is at the center of Hardinger's debut, an early-1900s tale of a resolute girl in a Midwestern family that's burdened with hardship. Bertie Winslow is a responsible, observant child with an emotionally absent mother and an alcoholic father who can only be relied on to cruelly tease his children. At nine years old, Bertie is forced to care for her sisters, baby Opal and 3-year-old Dacia, and by the time Bertie is 11, she also needs to tend to her depressed mother's new baby twins. Several years later, Bertie's mother becomes ill and dies, leaving Bertie in charge of four children. Because the family is poor and the father is often away on binges, the struggles Bertie must endure with housework and child rearing are nonstop, constantly testing her emotional fortitude. Bertie finally decides she must marry—she's fortunate to find a good man—and when they relocate from Missouri to Kansas, her one friend, Alta Bea, follows with her own new husband. The friendship is sometimes awkward, because Alta Bea is a modern thinker, but Bertie continually gains wisdom in all areas of her life. The characters in this story are vividly portrayed, with nuanced, complex personalities. The resilience and strength of the narrator will stay with readers long after they've finished. (Sept.)
—Publishers Weekly

"Not since Daniel Woodrell's Winter's Bone and Bonnie Jo Campbell's Once Upon a River have I met such an original, strong young woman, full of resourcefulness, passion, and courage, dedicated to saving her family no matter the personal sacrifice. This is an extraordinary, unforgettable novel, with a haunting voice that follows you into your dreams at night. Elizabeth Hardinger carves the geography of the human heart and teaches us the lessons of the forgiveness and the redemption that is possible for those of us strong enough to bear the burden and gift of love."
—Jonis Agee, award‑winning author of The River Wife and The Bones of Paradise
 
"Elizabeth Hardinger has given us a heroine for the ages. In the face of unimaginable hardship, where survival is the only thing that matters, she learns strength and courage, and discovers joy in unexpected places. Her voice is strong and authentic and unforgettable. Equal parts tender and brutal, All the Forgivenesses is a rich, exquisite novel."
—Alex George, author of Setting Free the Kites
 
"It won't take a page to know this is an abiding story told in an utterly captivating voice. I fell into this novel in a way I've only experienced when reading Kaye Gibbons, Louise Erdrich, Dorothy Allison, and Alice Walker. The sense of place and time, of family, guilt, grief, and love are so richly layered, reading All the Forgivenesses is mesmerizing. No one writes like Hardinger. Thank goodness she does."
—Sandra Scofield, National Book Award finalist for Beyond Deserving
 
"Composed with unassuming wisdom and grace, All the Forgivenesses is an exhilarating testament to the human spirit. You'll fall in love with the remarkable Bertie, whose unwavering loyalty to family delivers her a life rich with meaning and hard‑won transcendence. A captivating debut by an exciting new voice in fiction."
—Wayne Harrison, author of The Spark and the Drive
A John Scognamiglio Book, 9781496720443, 368pp.
Publication Date: August 27, 2019
About the Author
Elizabeth Hardinger holds a BA in English from McPherson College and an MFA from Wichita State University. She lives with her husband in Eugene, Oregon, where she occasionally copyedits technical and academic books. All the Forgivenesses, her debut novel, draws on family lore about life in a tarpaper shack during the Kansas oil boom of the 1920s. Find the author on Twitter at Elizabeth Hardinger@ElizHardinger, and visit her website at elizabethhardinger.com.
or
Not Currently Available for Direct Purchase