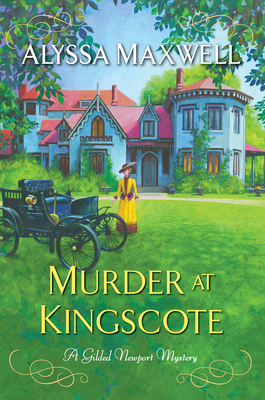 Murder at Kingscote (A Gilded Newport Mystery #8)
Hardcover

* Individual store prices may vary.
Other Editions of This Title:
Library Binding, Large Print (12/1/2020)
Description
In late nineteenth-century Newport, Rhode Island, journalist Emma Cross discovers the newest form of transportation has become the newest type of murder weapon . . .
 
On a clear July day in 1899, the salty ocean breeze along Bellevue Avenue carries new smells of gasoline and exhaust as Emma, now editor-in-chief of the Newport Messenger, covers Newport's first-ever automobile parade. But the festive atmosphere soon turns to shock as young Philip King drunkenly swerves his motorcar into a wooden figure of a nanny pushing a pram on the obstacle course.
 
That evening, at a dinner party hosted by Ella King at her magnificent Gothic-inspired "cottage," Kingscote, Emma and her beau Derrick Andrews are enjoying the food and the company when Ella's son staggers in, obviously still inebriated. But the disruption is nothing compared to the urgent shouts of the coachman. Rushing out, they find the family's butler pinned against a tree beneath the front wheels of Philip's motorcar, close to death.
 
At first, the tragic tableau appears to be a reckless accident—one which could ruin Philip's reputation. But when Emma later receives a message informing her that the butler bullied his staff and took advantage of young maids, she begins to suspect the scene may have been staged and steers the police toward a murder investigation. But while Emma investigates the connections between a competing heir for the King fortune, a mysterious child, an inmate of an insane asylum, and the brutal boxing rings of Providence, a killer remains at large—with unfinished business to attend to . . .
Praise For Murder at Kingscote (A Gilded Newport Mystery #8)…
Praise for Alyssa Maxwell and her Gilded Newport Mysteries!
 
MURDER AT CROSSWAYS
 
"Tightly plotted . . . Maxwell evokes the contrasts of Victorian Newport with her customary insight."
—Publishers Weekly
 
"Another tricky mystery set against the backdrop of some great real-life mansions, some of which remain open to anyone who wishes to visit."
—Kirkus Reviews
 
"Will appeal to those who enjoy historical mysteries with strong, ahead-of-their times female characters like Kerry Greenwood's Phryne Fisher and Rhys Bowens' Molly Murphy."
—Booklist
 
"An intelligent, well-written mystery."
—Suspense Magazine
 
MURDER AT OCHRE COURT
 
"Plenty of red herrings and an intimate look at the world of the wealthy and famous make for a rich broth of a mystery."
—Kirkus Reviews
 
MURDER AT ROUGH POINT
 
"Emma is an interesting, independent career woman in this satisfying first-person account that includes well-drawn characters."
—Booklist
 
MURDER AT BEECHWOOD
 
"Another entertaining entry in this cozy series."
—Library Journal
 
MURDER AT MARBLE HOUSE
 
"Maxwell again deftly weaves fictional and real-life characters into her story."
—Publishers Weekly
 
MURDER AT THE BREAKERS
 
"Sorry to see the conclusion of Downton Abbey Season 4?  Well, here is a morsel to get you through a long afternoon. Brew some Earl Grey and settle down with a scone with this one."
—Washington Independent Review of Books
Kensington, 9781496720733, 304pp.
Publication Date: August 25, 2020
About the Author
Alyssa Maxwell began a love affair with the city of Newport years ago. Time and again the colonial neighborhoods and grand mansions drew her to return, and on one of those later visits she met the man who would become her husband. Always a lover of history, Maxwell found that marrying into a large, generations‑-old Newport family opened up an exciting new world of historical discovery. Today, she and her husband reside in Florida, but part of her heart remains firmly in that small New England city of great historical significance. For more info please visit www.alyssamaxwell.com.