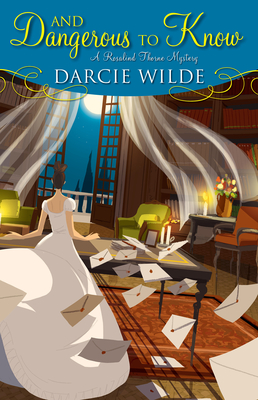 And Dangerous to Know (Rosalind Thorne Mystery #3)
Hardcover

* Individual store prices may vary.
Other Editions of This Title:
Paperback (10/27/2020)
Compact Disc (12/31/2019)
Description
When the ladies of the ton of Regency London need discreet assistance, they turn to Rosalind Thorne—in these mysteries inspired by the novels of Jane Austen . . .
 
Trust is a delicate thing, and no one knows that better than Rosalind Thorne. Lady Melbourne has entrusted her with recovering a packet of highly sensitive private letters stolen from her desk. The contents of these letters hold great interest for the famous poet Lord Byron, who had carried on a notorious public affair with Lady Melbourne's daughter-in-law, the inconveniently unstable Lady Caroline Lamb. Rosalind is to take up residence in Melbourne House, posing as Lady Melbourne's confidential secretary. There, she must discover the thief and regain possession of the letters before any further scandal erupts.
 
However, Lady Melbourne omits a crucial detail. Rosalind learns from the Bow Street runner, Adam Harkness, that an unidentified woman was found dead in the courtyard of Melbourne House. The coroner has determined she was poisoned. Adam urges Rosalind to use her new position in the household to help solve the murder. As she begins to untangle a web of secrets and blackmail, Rosalind finds she must risk her own life to bring the desperate business to an end . . .
Praise For And Dangerous to Know (Rosalind Thorne Mystery #3)…
Praise for And Dangerous to Know

"Wilde's heroine is not only a useful woman but a highly entertaining one." --Kirkus Reviews

"The Regency frame is skillfully woven through a story that features surprising plot twists and an engaging subplot concerning Rosalind's dilemma over whom to marry—Harkness or a duke who will allow her to reclaim her past." --Booklist

"Captivating… Wilde smoothly mixes historical figures and events into a plot that's sure to keep readers turning the pages to see what happens next. Regency fans will be charmed." –Publishers Weekly

"Rosalind carries the soul of Sherlock Holmes in the world of Elizabeth Bennet, and it's a hard combination to beat." --BookPage

Praise for Darcie Wilde's Rosalind Thorne mysteries:
 
"Wilde brings the haute monde of early 19th-century London to vivid life, and the characters she peoples it with are complex individuals whose basic decency, or lack of it, is carefully hidden behind a facade of manners and propriety." —Publishers Weekly
 
"With plenty of twists and turns, and romance thrown in to boot, A Useful Woman by Darcie Wilde is a delight to read, and I look forward to the next in the series." —Fresh Fiction

 "Rosalind is an interesting, dare I say "plucky" heroine, a once-rich girl now lowered to live by her wits. She still follows the strict etiquette of her time and lost position, no matter the cost. The asides on what is proper in each situation are amusing, reminiscent of Jane Austen . . . I thoroughly enjoyed this novel and look forward to the next book in the series." —The Historical Novel Society

"There are a multitude of regency era mystery novels, so it takes a unique twist for an author to set theirs apart. Darcie Wilde has succeeded with A Useful Woman by creating a heroine who, while abandoned by her family, has managed to create a niche in London Society by being necessary due to her usefulness and eye for detail." —Night Owl Reviews
Kensington, 9781496720863, 352pp.
Publication Date: December 31, 2019
About the Author
Darcie Wilde is the award-winning author of the Rosalind Thorne Mysteries, a Regency-set historical mystery series inspired by the novels of Jane Austen, as well as the Regency Makeover Trilogy of eNovellas. Visit her online at darciewilderomance.com.