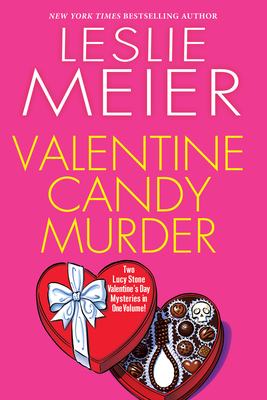 Valentine Candy Murder (A Lucy Stone Mystery) (Paperback)
Kensington, 9781496722294, 416pp.
Publication Date: December 18, 2018
* Individual store prices may vary.
Description
It's Valentine's Day in Tinker's Cove, Maine, but when it comes to foul play, Pennysaver reporter Lucy Stone can't sugar-coat the truth . . .
 
VALENTINE MURDER
 
Lucy has barely arrived at her first library board meeting when the new librarian is found dead in the basement. The agitated group assumes Bitsy Howell was killed by an outsider—until Detective Lt. Horowitz announces that the killer is among them. Lucy knew that Bitsy rubbed some people the wrong way. But she has a hunch the murderous motives run a lot deeper. And as she snoops into the curious lifestyles and shocking secrets of Tinker's Cove's most solid citizens, what she finds is far from hearts and flowers . . .
 
CHOCOLATE COVERED MURDER
 
Despite the frigid winter temperatures, to boost the economy, Tinker's Cove is launching a travel promotion for Valentine's Day. Lucy is assigned a puff piece on upscale Chanticleer Chocolate—and its deliciously handsome owner. But there's another tantalizing tart behind the counter—sultry store manager Tamzin Graves. Leaving a throng of jealous women in her wake, it's almost no surprise when Tamzin turns up dead, her body covered in chocolate. And as Lucy closes in on the culprit, she may find herself locked in the clutches of a half-baked killer . . .
About the Author
LESLIE MEIER is the acclaimed author of over twenty Lucy Stone mysteries and has also written for Ellery Queen's Mystery Magazine. She is currently at work on the next Lucy Stone mystery. Readers can visit her website at www.LeslieMeier.com.