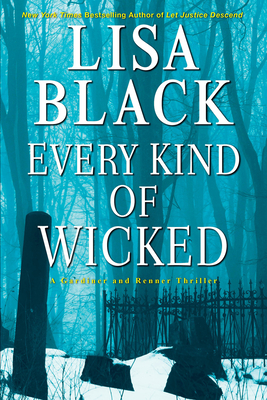 Every Kind of Wicked (A Gardiner and Renner Novel #6)
Hardcover

* Individual store prices may vary.
Other Editions of This Title:
MP3 CD (9/3/2020)
Compact Disc (9/3/2020)
Description
In this mesmerizing new novel from bestselling author Lisa Black, the discovery of a young man's corpse leads forensics expert Maggie Gardiner and Cleveland detective Jack Renner into a dark and dangerous web of lies . . .
 
Life and death have brought Maggie Gardiner full circle, back to the Erie Street Cemetery where she first entered Jack Renner's orbit. Eight months ago, she learned what Jack would do in the name of justice. More unsettling still, she discovered how far she would go to cover his tracks. Now a young man sprawls atop a snowy grave, his heart shredded by a single wound. A key card in the victim's wallet leads to the local university's student housing—and to a grieving girlfriend with an unsettling agenda.
 
Maggie's struggle to appease her conscience is complicated by her ex-husband, Rick, who's convinced that Jack is connected to a series of vigilante killings. Also a homicide detective, Rick investigates what seems like a routine overdose on Cleveland's West Side; but here, too, the appearance belies a deeper truth.
 
Rick's case and Jack's merge onto the trail of a shadowy, pill-pushing physician who is everywhere and nowhere at once, while Maggie and Jack uncover a massive financial shakedown hiding in plain sight. And when Rick's bloody fingerprint is found at another murder scene, Maggie's world comes undone in a violent, irreversible torrent of events . . .
Praise For Every Kind of Wicked (A Gardiner and Renner Novel #6)…
PRAISE FOR LISA BLACK
and her Gardiner and Renner Thrillers
 
LET JUSTICE DESCEND
 
"An intriguing tale of skullduggery."
—Publishers Weekly
 
SUFFER THE CHILDREN
 
"Yet another must read!"
—Charles Todd
 
"A well-plotted and -paced thriller with a pair of intriguing protagonists."
—Booklist
 
PERISH
 
"As always with Black, this psychological suspense is incredible."
—Suspense Magazine
 
"Full of fascinating forensic science and an eye-opening deep dive into predatory mortgage-lending practices."
—Publishers Weekly
 
UNPUNISHED

"This terrific mystery will keep you guessing at every turn—and turning pages as fast as you can."
—Hank Phillippi Ryan
 
THAT DARKNESS
 
"Lisa Black always delivers authentic characters in riveting stories. That Darkness takes things to a spellbinding new level."
—Jeff Lindsay, creator of the Dexter series
 
"Black is one of the best writers of the world of forensics."
—RT Book Reviews, 4 Stars
 
"A great choice for readers of psychological suspense, forensic investigations, and mystery."
—Library Journal
Kensington, 9781496722386, 336pp.
Publication Date: August 25, 2020
About the Author
New York Times bestselling author Lisa Black introduced the characters of Maggie Gardiner and Jack Renner in her acclaimed suspense novel That Darkness and continued their story in Unpunished, Perish, Suffer the Children, and Let Justice Descend. As a forensic scientist at the Cuyahoga County Coroner's Office, she analyzed gunshot residue on hands and clothing, hairs, fibers, paint, glass, DNA, blood and many other forms of trace evidence, as well as crime scenes. Now she is a latent print examiner and crime scene analyst for the Cape Coral Police Department in Florida, working mostly with fingerprints and crime scenes.

Lisa is a member of the American Academy of Forensic Sciences, the International Association for Identification, and the International Association of Bloodstain Pattern Analysts, and she is a Certified Crime Scene Analyst and Certified Latent Print Examiner. She has testified in court as an expert witness more than sixty-five times. Her books have been translated into six languages. She lives near Fort Myers, Florida. Visit her on Facebook, Twitter, or at www.lisa-black.com.