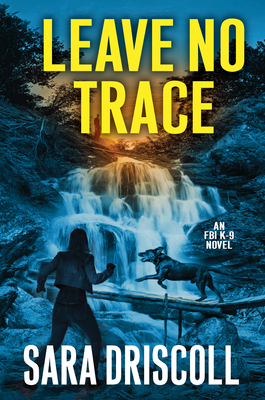 Leave No Trace (An F.B.I. K-9 Novel #5)
Hardcover

* Individual store prices may vary.
Description
In the fifth F.B.I. K-9 novel, Sara Driscoll weaves together fast-paced suspense and the fascinating world of law enforcement canines, as Meg Jennings and her search-and-rescue dog, Hawk, are heading south, where it's hunting season. But this time the prey is human.

FBI handler Meg Jennings and her search-and-rescue K-9 partner are heading south where it's hunting season. But this time the prey is human.

"For dog lovers and action fans. Dogs-in-action junkies will be transported."
--Kirkus Reviews

"Fascinating...Fans will look forward to Meg's further adventures."
--Publishers Weekly

One arrow through the heart could be a tragic hunting accident. A second one, within days, looks more like a crime. That's when Meg Jennings and Brian Foster of the FBI's Forensic Canine Unit head to Georgia to investigate. With their dogs Hawk and Lacey, Meg and Brian are enlisted to follow the scent of a killer. At first, nothing seems to connect the two victims-a county commissioner and State Patrol officer. But the blood sport around the southern town of Blue Ridge is just beginning.

As the body count rises, the compound bow killer becomes even more elusive, appearing and vanishing like a ghost. However, with each new slaying Meg is beginning to suspect the grim design that's escalating in the shadows. At its heart, a tragic event that reaches back nearly two centuries in Georgia's history is now turning Blue Ridge into a hunting ground. But as Meg gets closer to solving the puzzle, the closer she is to stepping into the crosshairs of an elusive murderer with deadly aim, and motives as deep and dark as the woods . . .
Praise For Leave No Trace (An F.B.I. K-9 Novel #5)…
Praise for Leave no Trace

"Driscoll offers a fascinating look at the training of working dogs, who are depicted as uniformly brave and obedient. The romance between Meg and her unbelievably patient boyfriend, firefighter Tom Webb, adds some depth. Fans will look forward to Meg's further adventures."
—Publishers Weekly

Praise for Sara Driscoll's F.B.I. K-9 Novels
 
"This is the sort of crime novel that gives readers a little bit of everything: it's a thriller, a procedural, and a detective story—and a good yarn, too, featuring a smart heroine."
—Booklist on No Man's Land
 
"Exceptional…Readers will hope this series has a long run."
—Publishers Weekly, STARRED REVIEW on Storm Rising​
 
"This page-turner will keep you up all night!"
—Modern Dogon Before it's too Late
 
"Meg and Hawk prove themselves a formidable team the readers will want to see more of."
—Publishers Weekly on Before it's too Late
 
"A wonderfully readable series launch."
—Publishers Weekly on Lone Wolf
 
"Tense and exciting, Sara Driscoll has created a new power couple, Meg and her FBI K-9, Hawk."
—Leo J. Maloney, author of Arch Enemy on Lone Wolf
Kensington, 9781496722492, 336pp.
Publication Date: December 29, 2020
About the Author
Sara Driscoll is the pen name of Jen J. Danna and Ann Vanderlaan, authors of the Abbott and Lowell Forensic Mysteries. Jen is an infectious disease researcher at a cutting-edge Canadian university near Toronto, but loves to spend her free time writing the thrilling and mysterious. Ann lives in western North Carolina with five rescued pit bulls, including Kane, now a certified therapy dog. She also trains with Kane for competitive nose work. You can follow the latest news on the F.B.I. K-9 Mysteries at SaraDriscollAuthor.com.