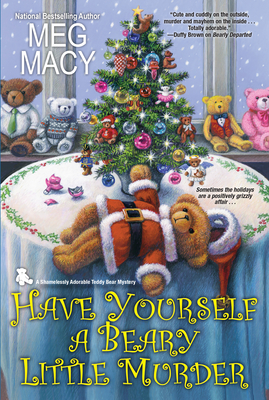 Have Yourself a Beary Little Murder (A Teddy Bear Mystery #3)
Paperback

* Individual store prices may vary.
Other Editions of This Title:
Paperback, Large Print (11/6/2019)
Description
This holiday season, teddy bear shop manager Sasha Silverman must solve the slaying of Santa Bear . . .
 
Sasha and her sister Maddie are thrilled that the Silver Bear Shop and Factory has won the Teddy Bear Keepsake Contest, which means they get to produce a holiday specialty toy, a wizard bear named "Beary Potter." Promising to be just as magical is Silver Hollow's annual tree-lighting ceremony and village parade. Only one hitch: the parade's mascot, Santa Bear—played by Mayor Cal Bloom—is missing.
 
After a frantic search among the floats, Bloom is found dead. When the outfit is removed, it's clear the mayor's been electrocuted. Who zapped hizzoner and then stuffed him into his Santa Bear suit? While the police investigate the grisly crime, Sasha attempts to track down the murderer herself, with some help from the Guilty Pleasures Gossip Club. Can they wrap up this case in time for Christmas—or will Sasha meet her own shocking end?
 
Praise for BEARLY DEPARTED
 
"You'll fall in love with this delightful debut mystery."
—Victoria Thompson, bestselling author of Murder in Morningside Heights
 
"The first in a new series features a complex plot awash in red herrings, a perky heroine . . . and everything you ever wanted to know about teddy bears."
—Kirkus Reviews
 
"The appealing, impulsive amateur sleuth, dedicated to the family business, will appeal to fans of character-driven cozies."
—Library Journal
 
"Entertaining . . . inhabited by quirky, fully developed characters and good dogs and cats."
—Publishers Weekly
Praise For Have Yourself a Beary Little Murder (A Teddy Bear Mystery #3)…
Praise for Have Yourself a Beary Little Murder

"A fast read, a fun holiday book that inspires readers to start looking forward to the holiday season to come and to look at teddy bears in a whole new way. The description of the Harry Potter-inspired wizard teddy bear will send fans scrambling to find a bear just like it for their own. I think readers will get a kick out of reading this cozy and am happy to add it to my holiday collection." --The Cozy Review

"I did enjoy this very much, and highly recommend it! Any time of year is good to read this, but especially before Christmas!" --Open Book Society

Praise for Meg Macy's previous Shamelessly Adorable Teddy Bear mysteries:
 
"You'll fall in love with this delightful debut mystery." —Victoria Thompson, bestselling author of the Gaslight Mysteries
​
"Teddy bears​,​ quaint shops​, ​and murder! Bearly Departed is​ stuffed with everything cozy mystery readers crave." —Leigh Perry, author of The Family Skeleton Series
 
"Cute and cuddly on the outside, murder and mayhem on the inside—I love this book!!! Totally adorable."—Duffy Brown, bestselling author of the Cycle Path Mysteries
 
"When the summer heat gets too oppressive, grab the second book in Macy's delightful Teddy Bear Mystery series — you'll be transported to small-town Michigan in the fall! The clever use of the teddy bear theme all over town adds to the cozy atmosphere of the book… Well plotted and nicely paced."  –RT Reviews
 
"From the first line to the finale, I was immersed in all facets of this multi-plot drama." –Dru's Book Musings
​
"I was kept guessing until the final suspenseful reveal. I loved the first adorable book and I was more than delighted with this second installment in the series!" –Cinnamon Sugar and a Little Bit of Murder Reviews
​
"Those pages were really flying and so much was happening, there was no way I was going to put this book down until I reached the end. By the way, I was wrong and surprised by the ending. I loved it!" –Dollycas Reviews
 
"This second book in the series doesn't disappoint...  I loved the cuddly nature of the story and the theme of OktoBear Fest. Made me wish I truly lived in a small town with fun activities like this." –A Cup of Tea and a Cozy Mystery
​​
"I would be thrilled to recommend this book to all mystery fans, I say buy it now and read it in the fall! A five star hit and I can't wait for the next!" –Bibliophile Reviews
​
"Order a pizza, blow off dinner, and get lost in this book."  –A Cozy Experience
​
"I am looking forward to visiting Silver Hollow again, not only because Ms. Macy is such a talented writer, but because I love teddy bears as much as I love cozy mysteries." –Melina's Book Blog
Kensington, 9781496722652, 304pp.
Publication Date: September 24, 2019
About the Author
Meg Macy writes the Shamelessly Adorable Teddy Bear cozy mystery series and is also one-half of the writing team for the Agatha Award-nominated historical mysteries featuring Eliza Doolittle and Professor Henry Higgins. As Meg Mims she won a Best First Book Spur Award for a western historical mystery and also has written Christmas-themed romance novellas with rescue dogs and cats. Meg tackles her to-be-read pile between deadlines, and enjoys tearooms, flowers, and gardening. Visit her on Facebook.com/MegMacyTeddyBearCozies, Instagram.com/meg_macy_author, Twitter.com/megmims, or her website at www.megmacy.com.