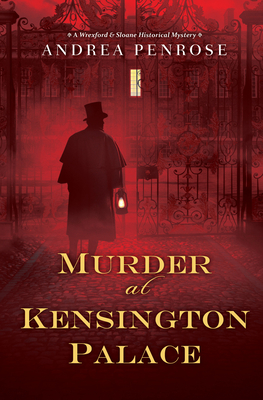 Murder at Kensington Palace (A Wrexford & Sloane Mystery #3) (Hardcover)
Kensington, 9781496722812, 368pp.
Publication Date: September 24, 2019
Other Editions of This Title:
Compact Disc (2/11/2020)
MP3 CD (2/11/2020)
Paperback (8/25/2020)
* Individual store prices may vary.
About the Author
Andrea Penrose is the bestselling author of Regency-era historical fiction, including the acclaimed Wrexford & Sloane mystery series, as well as Regency romances written under the names Cara Elliott and Andrea Pickens. Published internationally in ten languages, she is a three-time RITA Award finalist and the recipient of numerous writing awards, including two Daphne Du Maurier Awards for Historical Mystery and two Gold Leaf Awards. A graduate of Yale University with a B.A. in Art and an M.F.A. in Graphic Design, Andrea fell in love with Regency England after reading Pride and Prejudice and has maintained a fascination with the era's swirling silks and radical new ideas throughout her writing career. She lives in Connecticut and blogs with a community of historical fiction authors at WordWenches.com. She also can be found at AndreaPenrose.com and on Instagram @AndreaPenroseBooks.
Praise For Murder at Kensington Palace (A Wrexford & Sloane Mystery #3)…
Praise for Andrea Penrose's Murder at Kensington Palace:

"A Regency lady with a hidden past joins forces with an irritable aristocrat to solve a dastardly series of crimes…[Charlotte's] burgeoning awareness of her love for Wrexford is just one of many unpredictable complications in the search for a clever and ruthless killer. Science and romance meet in a high-stakes cat-and-mouse game." –Kirkus Reviews

"Penrose deftly intertwines the politics of navigating Regency-era society, scientific progress, and the deepening relationship between the protagonists. Series fans will enjoy revisiting the lively cast of characters, while historical fiction readers will be satisfied by the immersive, richly detailed mystery." --Library Journal

"Penrose does a good job of linking the mystery to the period's scientific and social changes....An unusually rich look at Regency life."--Publishers Weekly

"This book is very suspenseful and takes many turns, as the clues point first to one person, then another. Penrose is excellent at conveying the details of early 19th-century science and experiments with electricity. This was the era of Frankenstein, after all. The relationship between Wrexford and Charlotte is further developed in this book, and I am looking forward to seeing where it leads next." --Historical Novel Society

"Andrea Penrose masterfully weaves the numerous plotlines of Murder at Kensington Palace into a scintillating whole." --Criminal Element 

Praise for Andrea Penrose's previous Wrexford & Sloane mystery, Murder at Half Moon Gate:

"Compelling...an intricately plotted mystery set in Regency England. Its complex story line and authentic historical details bring the early days of the Industrial Revolution vividly to life. Bound to fascinate readers of C.S. Harris and even fans of Victorian mysteries." --Library Journal STARRED REVIEW

"Penrose deftly combines a Regency romance with a tricky mystery that delves into social unrest and the darker side of this storied period." —Kirkus Reviews

"Penrose reveals intriguing new aspects of her protagonists' characters and relationship in a story linked to the era's technological and social changes." —Publishers Weekly 

"Charlotte Sloane and the Earl of Wrexford are a perfect crime-solving duo as headstrong and intelligent sleuths bucking the conventions of society. The relationship between Wrexford and Charlotte evolves nicely as they become more invested in each other. Wrexford has a title and money; Charlotte works as a satirical cartoonist making ends meet while caring for two young street urchins. The historical aspects of the story are intriguing as London is on the cusp of the Industrial Revolution....This adds great depth and tension to the mystery." – RT Book Reviews

"The relationship and banter between the two stars of this series is incredible.  Readers will look forward to seeing Charlotte and Wrex again (and, hopefully, very soon)." —Suspense Magazine

"I read this story very fast and loved so many aspects of it.  I can't say enough good things about this series.  I am eager to read the next installment.  Penrose's writing is superb and her ability to write complex characters that readers can still admire and relate to is perfection." –The Lit Bitch