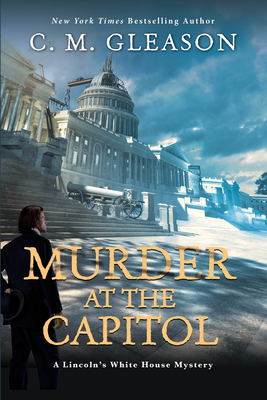 Murder at the Capitol (Lincoln's White House Mystery #3)
Hardcover

* Individual store prices may vary.
Other Editions of This Title:
Compact Disc (1/28/2020)
Library Binding, Large Print (9/23/2020)
Description
In July 1861, just months after the Battle of Fort Sumter plunges the young nation into civil war, President Lincoln's top priority is to unite the country, while Adam Quinn finds himself on the trail of a murderer . . .
 
On Independence Day, the citizens of Washington, DC, are celebrating as if there isn't a war. But the city is teeming with green Union recruits while President Lincoln and his War Department are focused on military strategy to take Richmond in Secessionist Virginia in order to bring the conflict to a swift end. Manassas, Virginia, near Bull Run Creek, is in their sights.
 
The very next morning, as Congress convenes once more, a dead body is found hanging from the crane beneath the unfinished dome of the Capitol. Lincoln's close confidant, Adam Speed Quinn, is called upon to determine whether the man had taken his own life, or if someone had helped him.
 
With the assistance of Dr. George Hilton and journalist Sophie Gates, Quinn investigates what turns out to be murder. But the former scout is about to be blindsided, for a Southern sympathizer in the city is running a female spy network reporting to the Confederacy, and she has an insidious plot to foil the Union Army's march to Manassas by employing the charms of one Constance Lemagne to get as close to Adam as possible . . .
Praise For Murder at the Capitol (Lincoln's White House Mystery #3)…
Praise for C.M. Gleason's Murder at the Capitol

"A riveting historical mystery set on the eve of the first major battle of the Civil War. Fans of descriptive historical mysteries will appreciate the mix of real people and intriguing fictional characters." 
—Library Journal (Starred Review)

"At the start of Gleason's superior third Lincoln's White House mystery (after 2018's Murder in the Oval Library), set in July 1861, Southern sympathizer Pinebar Tufts, an assistant examiner in the Patent Office's civil engineering division, enters the partially completed Capitol, where an assailant hits him on the head. The next day, Tufts's body is discovered hanging from a crane beneath the building's half-finished dome. The grim find is reported to series lead Adam Quinn, a frontiersman who has become a member of Abraham Lincoln's security team. African-American physician George Hilton, a friend of Quinn's, examines the corpse and confirms Quinn's suspicions of foul play. A complicated murder inquiry ensues. Quinn must probe Tufts's killing at a particularly fraught time, as Washington, D.C., residents anxiously await the "big battle" that they hope will settle the Civil War in the Union's favor. Gleason effectively integrates historical subplots, including a Southern spy ring, into the main story line. Owen Parry fans will be pleased." 
—Publisher's Weekly (Starred Review)

"Murder at the Capitol is Gleason's strongest offering yet in an already solid series…It takes a gifted writer to weave together vivid history, three-dimensional characters, and examination of moral issues while still providing a satisfying mystery, and Gleason pulls this off seemingly with ease." 
—Historical Novel Society (Editor's Choice Selection)

Praise for C. M. Gleason's previous  Lincoln's White House Mysteries 
 
Murder in the Oval Library

"An excellent mystery combined with brilliant historical detail."
—Kirkus Reviews

"A simply riveting read from cover to cover, as author C. M. Gleason exhibits a genuine flair for deftly crafted storytelling and a mastery of the historical mystery genre."
—Midwest Book Review

"This story abounds with historical characters as well as fictional ones . . . This is a great novel for those who like their mysteries in a historical setting." 
—New York Journal of Books

"It would have been easy for Gleason to focus only on the murder, but she goes further by providing rich detail about this brief yet fascinating period of the capital's history . . . Gleason masterfully raises the tension surrounding the murder in tandem with the desperation and fear of the city's inhabitants . . . Highly recommended."
—Historical Novel Society

Murder in the Lincoln White House
 
"History, mystery, and a little romance combine with a diverse cast of characters . . . This crisp look at our nation's capital on the brink of pivotal history balances well with the mystery at hand and achieves the right blend of both . . . Well-known historical figures share the pages with the fictional ensemble, capturing an authentic portrait of the period and adding layers to both the plot and the setting. Perfect for mystery fans as well as Lincoln/Civil War aficionados."
—RT Book Reviews, Top Pick 

Praise for the previous works of C. M. Gleason
 
"Exhilarating . . . Sure to please." 
—The New York Times Sunday Book Review
 
"Wonderfully witty . . . deliciously dark and delightfully entertaining." 
—The Chicago Tribune

"Witty, intriguing, and addictive." 
—Publishers Weekly
Kensington, 9781496723987, 288pp.
Publication Date: January 28, 2020
About the Author
C. M. Gleason is the New York Times and USA Today bestselling author of the Stoker & Holmes series for teens, in addition to the Lincoln's White House Mysteries. She lives in the Midwest and is hard at work on her next novel. Learn more at: cmgleason.com.