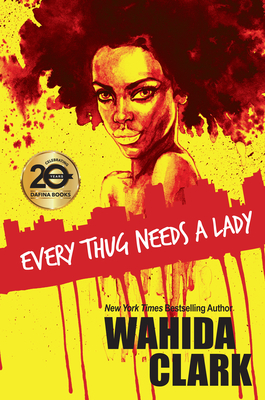 Every Thug Needs a Lady (Paperback)
Dafina, 9781496724250, 320pp.
Publication Date: November 26, 2019
Other Editions of This Title:
Paperback (10/1/2006)
Paperback (5/1/2011)
* Individual store prices may vary.
Description
New York Times bestselling author Wahida Clark's iconic Thug series takes readers into the streets—and into the heart of a criminal world where even love can be a dangerous choice…
 
Having escaped from the hard streets where deals go down on the corner and shots ring out in the night, sexy, beautiful Roz—friend of Angel, Jaz, and Kyra, who've all loved thugs of their own—is on her way to a professional career in physical therapy. She doesn't need to make a U-turn back to the ghetto. But then she meets Trae, who's still after the bling and fast money of drugs. He's hard, hot, irresistible—and trouble.
 
Soon Roz is wild for a brother whose world is filled with dark schemes and deadly desires.  But blinded by her passion, she can't see the heartbreak ahead—where the hood has a law of its own and its own brand of
revenge . . .
 
"This completely engrossing story spins a compelling tale the only way Wahida Clark knows how to do it, and she does it so well."
—Books2Mention.com on Thug Matrimony
 
"Clark takes us on a journey . . . the ride is exciting and drama filled."
—The RAWSISTAZ Reviewers on Thugs and the Women Who Love Them
 
"An entertaining, graphic, somewhat erotic look at the streets. . . . A drama-filled quick read that will leave you wanting more."
—RAWSISTAZ Reviewers on Payback is a Mutha
 
Book 2 in the Thug Series
About the Author
WAHIDA CLARK was born and raised in Trenton, New Jersey. She decided to write fiction while incarcerated at a women's federal prison camp and now has more than a million books in print, including four New York Times bestsellers. Her gritty crime novels include Thugs and the Women Who Love Them, Payback Is a Mutha, Every Thug Needs a Lady, Thug Matrimony, Payback with Ya Life, Thug Lovin', The Golden Hustla, Justify My Thug, and Payback Ain't Enough, as well as the novella "Enemy in My Bed" alongside a novella by Kiki Swinson in the collection Sleeping with the Enemy. Visit Wahida online at wclarkpublishing.com.