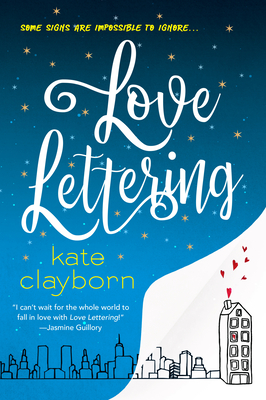 Love Lettering (Paperback)
A Witty and Heartfelt Love Story
Kensington, 9781496725172, 320pp.
Publication Date: December 31, 2019
* Individual store prices may vary.
Description
PopSugar Crazy Popular Books of 2020
Amazon Best Romance of the Month 
Top Ten Best Romances of 2019—Entertainment Weekly
SheReads' Most Anticipated Books of 2020
Bustle 17 Best New Books Of December 2019
HelloGiggles 8 Best New Books To Read In December
 
"The perfect quarantine read. It's funny, sweet, and beautifully written. The romance is so perfect it made me ache."
—Alisha Rai, Bustle

A funny, sexy, and empowering story from acclaimed author Kate Clayborn that fans of Tessa Bailey, Jen DeLuca, and Rachel Winters will adore.

In this warm and witty romance from acclaimed author Kate Clayborn, one little word puts a woman's business—and her heart—in jeopardy . . .
 
Meg Mackworth's hand-lettering skill has made her famous as the Planner of Park Slope, designing custom journals for her New York City clientele. She has another skill too: reading signs that other people miss. Knowing the upcoming marriage of Reid Sutherland and his polished fiancée was doomed to fail is one thing, but weaving a secret word of warning into their wedding program is another. Meg may have thought no one would spot it, but she hadn't counted on sharp-eyed, pattern-obsessed Reid.
 
A year later, Reid has tracked Meg down to find out how she knew that his meticulously planned future was about to implode. But with a looming deadline and a bad case of creative block, Meg doesn't have time for Reid's questions—unless he can help her find her missing inspiration. As they gradually open up to each other, both try to ignore a deepening connection between them. But the signs are there—irresistible, indisputable, urging Meg to heed the messages Reid is sending her, before it's too late . . .  

Praise for Love Lettering

"I can't wait for the whole world to fall in love with Love Lettering!" 
—Jasmine Guillory
 
"Delicious and beautiful and perfect."
—New York Times bestselling author Sarah MacLean
 
"This book will wake you up in the middle of the night aching for these perfectly imperfect characters."
—Sonali Dev, author of Pride, Prejudice, and Other Flavors
About the Author
Double RITA® nominee Kate Clayborn lives in Virginia, where she spends her days reading and talking about all kinds of great books. Kate loves to hear from and connect with readers—follow her on Twitter, on Instagram, and on Facebook. Visit her at www.kateclayborn.com to sign up for her newsletter.
Praise For Love Lettering: A Witty and Heartfelt Love Story…
"Perfect."
—Alisha Rai, Bustle
 
"Fabulous!"
—The Everygirl
 
"Flawless."
—The Washington Post
 
"Whimsical."
—Publishers Weekly
 
"Special."
—Smart Bitches Trashy Books, Grade A

"Flirty."
—First for Women on Love Lettering by Kate Clayborn

"I flew through this creative and original book. I was completely absorbed by the world Kate Clayborn creates — the characters felt so real and their joys and sorrows and struggles and triumphs felt so relatable that I forgot I was reading fiction. I can't wait for the whole world to fall in love with Love Lettering!"
—Jasmine Guillory, New York Times Bestselling Author of The Proposal
 
"On the surface, Love Lettering is the story of a letterer falling in love, but in actuality, it's a novel of lush complexity, one bursting with humor, a tender melancholy, and meditations on love, friendship, and life any reader can find solace and inspiration in. It's lyrical and engrossing, a novel that possesses all the colors, idiosyncrasies, and range of the alphabet. Like the pages Meg designs, Love Lettering is a novel bursting with hidden messages essential to discover – so long as we open our hearts to analyze the codes."
—A+, Entertainment Weekly
 
"This is the first Kate Clayborn I've read. It won't be the last—this book is utterly captivating, with a voice that leaps forward and then back on itself, like a series of curling loops inked a blank page. Dizzying, in the way of good champagne."
—Olivia Waite, Seattle Review of Books
 
"Fresh, funny, clever, and deeply satisfying."
—Kirkus Reviews STARRED REVIEW

"Written in a wry but vulnerable first-person voice, Love Lettering moves at a stroll, but readers will be happy to enjoy the scenery of the city and the interactions between Meg and her friends. With smart characters and authentic di­lemmas, this is a very special romance to both smile and sigh over."
—BookPage STARRED REVIEW

"Clayborn (Beginner's Luck) delivers an emotionally resonant love story filled with charming details of city life and the artisanal trendiness of handlettering and calligraphy that adorns the urban setting. This will be popular among the enthusiastic and growing audience for romantic comedies."
—Library Journal
 
"Love Lettering is delicious and beautiful and perfect."
—New York Times bestselling author Sarah MacLean

"Love Lettering made me laugh and made me cry. Kate Clayborn is my new go-to romance author."
—New York Times bestselling author Stacy Finz
 
"Kate Clayborn's writing is uniquely, intensely beautiful. This book will wake you up in the middle of the night aching for these perfectly imperfect characters. It's layered, nuanced, and unrelenting in how deep it digs."
—Sonali Dev, author of Pride, Prejudice, and Other Flavors