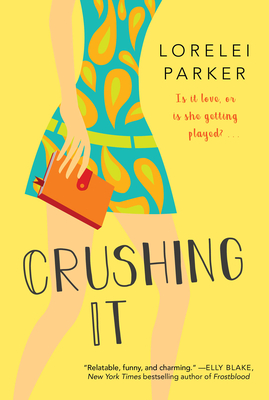 Crushing It
Paperback

* Individual store prices may vary.
Description
A June Goodreads Must Read Romance

"Relatable, funny, and charming."
—Elly Blake, New York Times bestselling author of Frostblood
 
In life, as in gaming, there's a way around every obstacle . . .
 
To pitch her new role-playing game at a European conference, developer Sierra Reid needs to overcome her terror of public speaking. What better practice than competing in a local bar's diary slam, regaling an audience with old journal entries about her completely humiliating college crush on gorgeous Tristan Spencer?
 
Until the moderator says, "Next up, Tristan Spencer . . ."
 
Sierra is mortified, but Tristan is flattered. Caught up in memories of her decade-old obsession as they reconnect, Sierra tries to dismiss her growing qualms about him. But it's not so easy to ignore her deepening friendship with Alfie, the cute, supportive bar owner. She and Alfie were college classmates too, and little by little, Sierra is starting to wonder if she's been focusing her moves on the wrong target all along, misreading every player's motivations.
 
Maybe the only winning strategy is to start playing by her heart . . .
 
 
"Relatable, funny, and charming, this gamingesque book delivers laughs and romance in a warm, satisfying bundle."
—Elly Blake, New York Times bestselling author of Frostblood
 
"Sexy and delicious."
—Kristin Wright, author of Lying Beneath the Oaks
Praise For Crushing It…
Praise for Lorelei Parker's Crushing It
 
"Crushing It will speak to gamers and romantics alike. The story pulls at readers' heartstrings as Sierra gets caught in a love triangle that has her torn between the past and the present, and gamers will love the references to new and old favorites. Parker crushes it in her debut novel." 
—Booklist
 
"For all of us who've wondered what happened to the One Who Got Away, and wished that someday he'd have to find out what he missed. Sexy and delicious."
—Kristin Wright, author of Lying Beneath the Oaks
 
"All my favorite things-sweet romance, laugh-out-loud moments, and a healthy dose of feminism."
—Suzanne Baltsar, author of Sidelined
 
"A gamer love story that makes your heart feel like it's come home."
—Michelle Hazen, author of Unbreak Me
 
"Lorelei Parker delivers a sweet, thought-provoking tale about a woman finding her voice and fighting for her seat at the table, all while healing the wounds of her past. A pulse-pounding romance with a gamer-geek heroine and swoon-worthy hero, Crushing It is a fresh, fun story guaranteed to delight."
—Kristin Rockaway, author of How to Hack a Heartbreak

"Frothy…Readers looking for a laugh will be gratified."
—Publishers Weekly
Kensington, 9781496725707, 336pp.
Publication Date: June 30, 2020
About the Author
Lorelei Parker grew up believing she was a Yankee, but being raised by transplanted Alabamans, she was destined to wind up in the south. After graduating from Auburn University, she disappointed her entire family by defecting to SEC rival University of Florida and eventually settled as far north as central Virginia where she works as a computer programmer. In her free time, when she isn't playing video games, she writes contemporary romantic comedy.