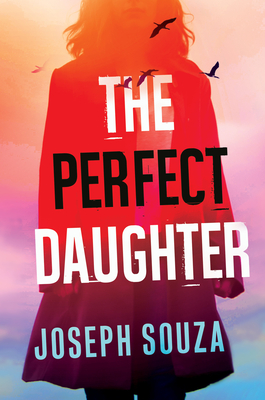 The Perfect Daughter
Hardcover

* Individual store prices may vary.
Description
With The Neighbor and Pray for the Girl, Joseph Souza proved himself a master of twisty and unpredictable psychological suspense. In this riveting new novel, a mother is unwittingly drawn into the dark underbelly of her picture-perfect Maine town . . .
 
Shepherd's Bay has been home to generations of lobstermen and their families. Lately, affluent newcomers have been buying up waterfront property and mingling uneasily with the locals. Tensions are high, especially since Dakota James, a teenage boy from the wealthier side of town, disappeared weeks ago. But another disturbing incident soon follows.
 
When high school junior Katie Eaves and her friend, Willow Briggs, fail to come home after a night out, Katie's mother, Isla, is frantic. Two agonizing days go by before Katie is found, bruised and bloodied, yet alive. Isla is grateful. But Willow, a wealthy newcomer from Los Angeles, is still missing. And Katie can't remember anything about the night of their disappearance.
 
Isla tries to help her daughter sort through her hazy recollections, and to recall the truth of her tangled friendship with privileged, beautiful Willow. At the hair salon she owns, Isla hears dark whispers about wild parties, drug deals, and love triangles gone wrong. How much truth is in the gossip? Is Dakota's disappearance linked to the others? And what other shocking secrets lie at the heart of Shepherd's Bay—and of the family Isla is struggling to hold together?
Praise For The Perfect Daughter…
Praise for the novels of Joseph Souza
 
Pray for the Girl
 
"A solid read that poses tough questions about how to help downtrodden towns undergoing social upheaval, a close look at tough personal transformations, and a mystery with a surprising solution."
—Booklist
 
"Joseph Souza's writing is knife-sharp, revealing and concealing until you don't know who to trust or believe. The story twists and coils like smoke from the town's mill, leading to an ending that will leave you dazzled and unnerved in equal measure. A must-read."
—Julia Spencer-Fleming, New York Times bestselling author of Through the Evil Days
 
"Souza has both a great imagination and a real talent for writing novels that will keep you up at night. You will not stop reading until the final paragraph."
—Bangor Daily News
 
"Delivers one devilish twist after another, pulling you into the story and never letting go. A tightly paced suspense drawn with compellingly real characters, Souza's newest domestic thriller is a genre-defining tour-de-force."
—Steve Konkoly
 
The Neighbor
 
"This is a break-out mystery novel—a masterpiece of whodunnit plotting and intense double-cross."
—The Kennebec Journal
 
"The Neighbor is like watching a chain-reaction car wreck happening in slow motion.  Scary and disturbing with dark psychological twists and turns, it horrifies while it fascinates.
 I couldn't turn away!"
—Lisa Jackson, #1 New York Times bestselling author
 
"Each secret seems to lead to another."
—The New York Post
 
"The Couple Next Door meets Gone Girl in this addictive thriller. Once I started reading, I couldn't stop."
—Charlie Donlea, USA Today bestselling author
 
"A subtle powder keg packed into the pages of a domestic thriller."
—Bookreporter
Kensington, 9781496726384, 368pp.
Publication Date: April 28, 2020
About the Author
Before launching his writing career, Joseph Souza worked as an intelligence analyst for the Drug Enforcement Agency (Organized Crime Unit) in Washington, D.C. His award‑winning short fiction and essays have been published in literary journals throughout the country. He lives in Portland, Maine, with his wife and two children.