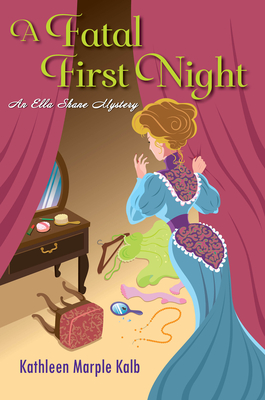 A Fatal First Night (An Ella Shane Mystery #2)
Hardcover

* Individual store prices may vary.
Description
Set in Gilded Age New York, Kathleen Marple Kalb's adventurous new historical mystery series returns for its second installment starring the swashbuckling opera singer Ella Shane, an Irish-Jewish Lower East Side orphan who finds fame and fortune singing male "trouser roles." But while her opera company's latest premier manages to attract adoring crowds and rave reviews, it also attracts a killer who's a real showstopper...

New York City, Fall 1899. Ahead-of-her-time coloratura mezzo Ella Shane has always known opening night to be a mess of missed cues and jittery nerves, especially when unveiling a new opera. Her production of The Princes in the Tower, based on the mysterious disappearance of Edward IV's two sons during the Wars of the Roses in England, concludes its first performance to thunderous applause. It's not until players take their bows that the worst kind of disaster strikes...

Flawless basso Albert Reuter is found lurched over a bloody body in his dressing room, seemingly taking inspiration from his role as the murderous Richard III. With a disturbing homicide case stealing the spotlight, Ella can't be so certain Albert is the one who belongs behind bars...

Now, Ella must think on her feet while sorting out a wild series of puzzling mishaps and interlocking mysteries. Yet even when sided with her aristocratic beau, does this scrappy diva have the chops to upstage the true criminal, or will this be the last time she headlines a Broadway marquee?
Praise For A Fatal First Night (An Ella Shane Mystery #2)…
Praise for A Fatal Finale, the first Ella Shane Mystery by Kathleen Marple Kalb
 
"Kathleen Marple Kalb's debut historical mystery, set in New York City in 1899, reads like the work of a seasoned novelist. Through her charismatic heroine, Ella Shane, the reader can peer through the curtain at the world of opera, seeing it in all its glamor, hard work, and occasional seediness. With a cast of endearing secondary characters and a dauntless heroine, A Fatal Finale calls for encore after encore."
—Miranda James, New York Times and USA Today bestselling author of the Cat in the Stacks series
 
"Filled with period detail and well-drawn characters, including an intelligent parrot named Montezuma, this story provides a nice start to a series for those who enjoy feisty heroines in cozies with theatrical frames."
—Booklist
 
"A wonderful new series. Ella is an amazing character, an expert at fencing and cycling, besides her singing career. She is fiercely independent, having resisted all suitors, and wants to stay that way, even though people keep reminding her that, in her mid-thirties, she will soon be too old for motherhood. Kalb paints a vivid portrait of New York at the end of the 19th century…Highly recommended."
—Historical Novel Society (Editor's Choice)
 
"Kalb may be a debut author, but her storytelling skills are already top-notch...Fun, romance, swordplay, music, and a well-done mystery take the stage for an outstanding debut. Brava!"
—Mystery Scene Magazine

"A thoroughly enjoyable book, for both the plot centering around a still-contemporary malady, as well as its historical description of a world on the brink of a new century."
—New York Journal of Books
 
"Appealing characters…Well-drawn opera-world setting."
—Publishers Weekly
 
"An immersive romp in the life of a Gilded Age opera singer from humble beginnings...It sets the stage for a series that could explore the complicated career and interior life of an independent woman of the early 1900s."
—Criminal Element
 
"In A Fatal Finale, Kathleen Marple Kalb raises the curtain on the tarnished glamour of the New York City theater scene in the Gilded Age, with a cast of characters so genuine and loveable you won't want to leave them when the book is over. Bravo to this engaging debut! I look forward to encore after encore!"
—Alyssa Maxwell, author of Murder at Crossways
 
"Delightfully intriguing, A Fatal Finale is a Gilded Age gem of a mystery. Kathleen Marple Kalb has gifted us with a glimpse of behind-the-scenes opera at the turn of the 20th century and introduced us to Ella Shane, an unconventional diva, and the perfect plucky heroine. Readers will adore this immersive tale!"
—Lydia Kang, author of Opium and Absinthe
Kensington, 9781496727244, 304pp.
Publication Date: April 27, 2021
About the Author
Kathleen Marple Kalb is the author of the Ella Shane Mystery series, set in Gilded Age New York and including A Fatal Finale and A Fatal First Night. She's also a weekend morning anchor at New York's 1010 WINS Radio, capping a career she began as a teenage DJ in rural Western Pennsylvania. Kalb is a member of the Sisters in Crime New York Chapter and the Author's Guild and is active in media organizations as well. She lives in Cheshire, Connecticut with her family and is at work on her next book. Please visit her online at KathleenMarpleKalb.com.