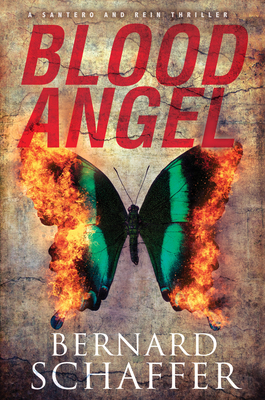 Blood Angel (A Santero and Rein Thriller #3) (Hardcover)
Kensington, 9781496727626, 288pp.
Publication Date: May 26, 2020
Other Editions of This Title:
Compact Disc (5/26/2020)
* Individual store prices may vary.
Description
In this powerful psychological thriller, veteran police officer Bernard Schaffer reunites detective Carrie Santero with manhunter Jacob Rein—to plumb the depths of a madman's obsession . . .
 
"I am The Master. . . ."
 
Fifteen years ago, a deranged young man abducted a teenage girl in a parking lot. He chose her for her innocence. Punished her for her beauty. Dowsed her with gasoline and tried to purify her with fire. Detective Jacob Rein managed to stop the lunatic and lock him up for life. Now the girl who survived that horrible ordeal has been found dead, an apparent suicide. Near her body is a letter from "The Master"—a bloodchilling promise to finish what he started.
 
"I long to relive everything we had before. . . ."
 
Now The Master has chosen new objects of desire—all dear to Carrie—and he is about to be released from a mental facility. Carrie reaches out to the one man who knows The Master better than anyone else. Jacob Rein understands the depths of his psychosis. He knows that the only way to anticipate The Master's next move is to enter his delusions. Indulge his obsessions. And follow his lead to the very edge of madness—and beyond.
About the Author
Bernard Schaffer won high praise for his Santero and Rein thrillers The Thief of All Light and An Unsettled Grave.  A full-time police detective, he is a decorated criminal investigator, narcotics expert, and child forensic interviewer. Schaffer, a father of two, is the author of numerous independently published books and series. He lives and works in the suburbs of Philadelphia, PA. Visit him @BernardSchaffer or www.bernardschaffer.com.
Praise For Blood Angel (A Santero and Rein Thriller #3)…
Praise for Bernard Schaffer's Santero and Rein Thrillers
 
An Unsettled Grave
 
"One of the best thrillers of the year."
—Suspense Magazine
 
"Police detective Schaffer knows his milieu well . . . a solid entry in a noteworthy series."
—Booklist
 
"Schaffer imbues the character-driven story with realism and heart-pounding suspense."
—Kirkus Reviews
 
"The author's knowledge and experience as a police officer give this thriller verisimilitude."
—Library Journal  
The Thief of All Light
 
"Tense, fast, and excellent."
—Lee Child
 
"A stylish, attention-getting thriller . . . the most engaging pair of detectives I've seen in a long while."
—David Morrell
 
"Schaffer's knowledge of detective work is evident. He dives deeply into the psyche of the officers, the inner angst, frustrations, and doubts; getting into the minds of the criminals they're trying to catch, and dealing with the guilt and desperations that often results."
—Library Journal
 
"Two of the most original heroes ever—as well as a killer who sets a new standard for lethal danger."
—Lisa Scottoline
 
"Schaffer writes the inside of a cop's brain with care and skill."
 —Mystery Scene