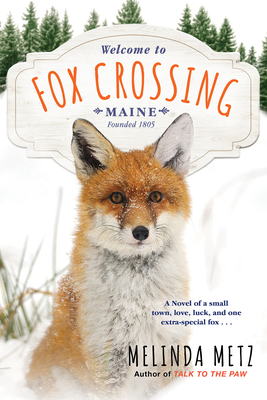 Fox Crossing (A Fox Crossing, Maine Novel #1)
Paperback

* Individual store prices may vary.
Description
The charming village of Fox Crossing, Maine (founded 1805) is the last bit of civilization before the 100-mile wilderness, the wildest and arguably most beautiful stretch of the Appalachian Trail. The little town has something else to offer as well... something rare, something that a few even call magic. It has The Fox. Crossing paths with a black cat is said to bring bad luck. But crossing paths with The Fox is a whole other story...

Crossing paths with a black cat is said to bring bad luck.
But crossing paths with The Fox is a whole other story . . .

SOME SAY THE FOX IS GOOD LUCK
In the mountain village of Fox Crossing, Maine, everyone knows the story of The Fox. According to local legend, one of the town's founders crossed paths with a curious-looking fox with a distinctive white ear and paw. The unusual fox sighting not only inspired the town's name, it sparked a fantastical piece of folklore that's been passed down for generations. Some people say that whoever sees The Fox will be rewarded with good fortune, love, and happiness. Others say it's just a silly folk tale . . .

WHAT DOES THE FOX SAY?
Annie Hatherley doesn't believe The Fox legend--even though it was her great-great-great-grandmother who spotted the critter centuries ago. But now it's part of Annie's legacy, along with her family business, Hatherley's Outfitters. For years, Annie's been selling gear to hikers on the Appalachian Trail. But she's never seen The Fox--until now. Out of nowhere, this little white-eared vixen leads her to Nick Ferrone, a woefully unprepared hiker who needs her help. The Shoo Fly Bakery owner also spots the sly creature--who takes him to a homeless dog that needs his love. Annie can't deny that something magical is happening--because she's starting to fall for a certain foxy hiker named Nick . . .

Praise for Melinda Metz's Talk to the Paw

"Filled with romance and adorable kitty antics . . . a light and cozy read that is awesome to curl up with, particularly alongside your own mischievous cat!"
--Modern Cat

"Surpassingly cute story of a matchmaking cat determined to pair off his human with a neighbor through the power of stinky laundry."
--Kirkus Reviews
Kensington, 9781496728098, 320pp.
Publication Date: November 24, 2020
About the Author
Melinda Metz is the author of the Roswell High series, basis of the hit television show Roswell, as well as humorous, feel-good books including Fox Crossing and her novels featuring MacGyver the matchmaking klepto-kitty, which have been published in 13 countries and translated into 14 languages. She is also an Edgar Award nominee for the Wright and Wong mystery series, written with Laura J. Burns. Melinda lives in North Carolina with her dog Scully, who exhibits some cat-like behaviors--such as seldom coming when she's called.