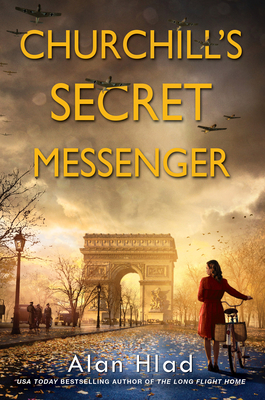 Churchill's Secret Messenger
A WW2 Novel of Spies & the French Resistance
Paperback

* Individual store prices may vary.
Other Editions of This Title:
Digital Audiobook (8/9/2021)
Digital Audiobook (4/28/2021)
Compact Disc (8/10/2021)
MP3 CD (8/10/2021)
Description
A riveting story of World War II and the courage of one young woman as she is drafted into Churchill's overseas spy network, aiding the French Resistance behind enemy lines and working to liberate Nazi-occupied Paris…

London, 1941: In a cramped bunker in Winston Churchill's Cabinet War Rooms, underneath Westminster's Treasury building, civilian women huddle at desks, typing up confidential documents and reports. Since her parents were killed in a bombing raid, Rose Teasdale has spent more hours than usual in Room 60, working double shifts, growing accustomed to the burnt scent of the Prime Minister's cigars permeating the stale air. Winning the war is the only thing that matters, and she will gladly do her part. And when Rose's fluency in French comes to the attention of Churchill himself, it brings a rare yet dangerous opportunity.

Rose is recruited for the Special Operations Executive, a secret British organization that conducts espionage in Nazi-occupied Europe. After weeks of grueling training, Rose parachutes into France with a new codename: Dragonfly. Posing as a cosmetics saleswoman in Paris, she ferries messages to and from the Resistance, knowing that the slightest misstep means capture or death.

Soon Rose is assigned to a new mission with Lazare Aron, a French Resistance fighter who has watched his beloved Paris become a shell of itself, with desolate streets and buildings draped in Swastikas. Since his parents were sent to a German work camp, Lazare has dedicated himself to the cause with the same fervor as Rose. Yet Rose's very loyalty brings risks as she undertakes a high-stakes prison raid, and discovers how much she may have to sacrifice to justify Churchill's faith in her . . .

"A rousing historical novel." - The Akron Beacon Journal, Best Books of the Year for Churchill's Secret Messenger
Praise For Churchill's Secret Messenger: A WW2 Novel of Spies & the French Resistance…
Praise for The Long Flight Home
 
"Tense, heartwarming and life affirming, The Long Flight Home gives a fresh slant on heroism in WWII."
—Rhys Bowen, New York Times bestselling author 
  
"I've always been fascinated by homing pigeons, and Alan Hlad makes these amazing birds and their trainers shine in The Long Flight Home—a sweeping tale full of romance and espionage, poignant sacrifice and missed chances, uncommon courage, and the ongoing costs of war. A compelling debut told with conviction and great heart."
—Paula McLain, author of The Paris Wife and Love and Ruin
 
"Hlad's debut snares readers with its fresh angle on the blitz of WWII, focusing on the homing pigeons used by the British, and the people who trained and cared for them… Descriptions of the horrors of war and the excitement of battle are engaging, and the unusual element of the carrier pigeons lends an intriguing twist. This story will speak not only to romance readers and WWII buffs but also to animal advocates and anyone who enjoys discovering quirky details that are hidden in history."
—Publishers Weekly
  
"Alan Hlad tells a dramatic, fictionalized story about the real use of pigeons during World War II…Compelling…The engaging plot and fascinating details of the National Pigeon Service make it a rewarding read. Many civilian pigeon-keepers volunteered to try to turn the tide of the war, not knowing if it would work or be worth the loss of their birds in the dangerous process. The Long Flight Home captures the contributions of the average citizens who, in a time of peril, rose to meet the challenge in heroic ways." 
—BookPage
  
"This well-researched historical novel presents a wealth of period detail and develops a romantic story inspired by the actual discovers—reported in newspapers more than a half century after the war—of the skeleton of an English homing pigeon carrying a still-legible coded message. The destructiveness of war, particularly the random carnage caused by the bombing of civilian areas, is vividly described, as well as the bravery of many citizens, including the homing pigeons of the National Pigeon Service." 
—VOYA Magazine
  
"Hlad's debut delves into an obscure piece of World War II history: the covert mission of the National Pigeon Service, which deployed an army of homing pigeons to send messages to Britain from Nazi-occupied France…Ollie's attempts to escape from France are gripping, and Hlad adeptly drives home the devastating civilian cost of the war."
—Booklist
  
"In Alan Hlad's fascinating story based on true events, he explores the special bond between an orphaned girl who raises the homing pigeons and an American soldier desperate to help the Royal Air Force."
—AFAR Magazine, The Best Summer Reads,
  
"The state of Maine is left behind in Alan Hlad's tale of heroism and romance, but its spirit—stoic, modest, independent—is well represented in Ollie…With its accounts of Luftwaffe raids on Britain and the unusual operation called Source Columba, which employed 16,000 pigeons in intelligence gathering, The Long Flight Home is a fresh avenue into a curious piece of World War II history."
—Down East Magazine
  
"Based on true events, The Long Flight Home has everything I love in a novel—the sense of discovery, the epic drama of a life-or-death situation, and the soaring sense of hope gained from the depths of despair. It's a gorgeous, impressive first novel by a hugely talented author."
—Susan Wiggs, # 1 New York Times bestselling author
 
"A story of loss and heartbreak, sacrifice and compassion, The Long Flight Home is ultimately a story of hope."
—The New York Journal of Books
 
"A charming historical novel. With clear, vivid prose [Hlad] recalls the mostly-forgotten, but intriguing RAF experiment, and sensitively explores the growing relationship between Ollie and Susan. As one who has spent thousands of hours watching birds, I was equally touched by Hlad's depiction of the bond between his characters and their pigeons."
—Historical Novels Review
A John Scognamiglio Book, 9781496728418, 304pp.
Publication Date: April 27, 2021
About the Author
Alan Hlad is the internationally acclaimed, USA Today bestselling author of The Long Flight Home and Churchill's Secret Messenger. His shorter work has appeared in The Bleeding Lion, Larks Fiction Magazine, The National Underwriter and Claims Magazine. In addition to writing historical fiction based on meticulous research, Alan is president of an executive search firm, a frequent conference speaker, and a member of the Historical Novel Society, Literary Cleveland, and the Akron Writers' Group. He lives in Ohio with his wife and children, and can be found online at AlanHlad.com.
1. The Special Operations Executive (SOE), also known as "Churchill's Secret Army," was a real organization during WWII. Of its 470 agents in German-occupied France, 39 were women, many of whom were captured, tortured, and killed. What do you think Churchill saw in Rose that influenced him to have her recruited for the SOE? What do you think motivated Rose to join the SOE?
2. A number of historical figures make appearances in Churchill's Secret Messenger, including Winston Churchill and General Charles de Gaulle. Did you recognize any other characters as people who existed in real life?
3. Why do you think Rose and Muriel bonded so quickly as friends? Why is Rose determined to survive Ravensbrück Concentration Camp and deliver a message to Muriel's daughter, Mabel?
4. What makes Felix a competent SOE network organizer? What are his weaknesses as a leader?
5. While working in German-occupied France, Rose and Lazare fall in love. What brings them together? At what point do you think Rose realizes she loves Lazare? How is the war, particularly the risk of being captured by the SD, a catalyst for their affection?
6. Prior to reading the book, what did you know about the Vel' d'Hiv roundup? What could Lazare have done to save his parents?
7. Operation Jericho was a real-life RAF bombing raid on Amiens Prison, one day before over 100 French Resistance prisoners were scheduled to be executed. The name of the person who requested this actual mission remains a secret—even to this day. How likely do you think it was that a female SOE agent such as Rose was the true mastermind behind Operation Jericho? If you were Rose, would you have arranged the bombing raid, knowing that it might kill the person you love? What are the consequences of Operation Jericho?
8. How do you envision what happens after the end of the book? Do you think Rose will remain bound to her oath of secrecy? What do you think her life will be like?