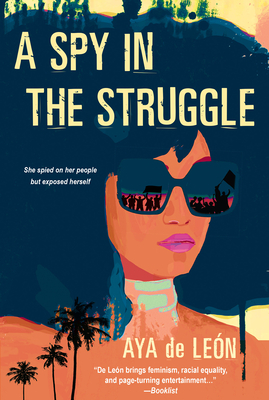 A Spy in the Struggle
Paperback

* Individual store prices may vary.
Description
Aya de León's International Latino Book Award-winning, action-packed, sexually-charged, politically significant novels have been described as "a rallying cry" (The Washington Post) and praised for their "poetic and savvy descriptions of women's inner and external challenges that are reminiscent of Sister Souljah's or Ntozake Shange's work" (Bitch Magazine). Now she takes on issues of climate justice, corporate corruption, and government surveillance of marginalized activists in an electrifying story about a high-powered attorney who goes undercover to infiltrate a Bay Area activist group.

"De León brings feminism, racial equality, and page-turning entertainment..."
--Booklist

Success used to be this savvy lawyer's only rule. But now she's putting everything on the line to bring a killer corporation to justice.

Since childhood, Yolanda Vance has forged her desire to escape poverty into a laser-like focus that took her through prep school and Harvard Law. So when her prestigious New York law firm is raided by the FBI, Yolanda turns in her corrupt bosses to save her career--and goes to work for the Bureau. Soon she's sent undercover at Red, Black, and Green--an African-American "extremist" activist group back in her California college town. They claim a biotech corporation fueled by Pentagon funding is exploiting the neighborhood. But Yolanda is determined to put this assignment in her win column, head back to corporate law, and regain her comfortable life . . .

Until an unexpected romance opens her heart--and a suspicious death opens her eyes. Menacing dark money forces will do anything to bury Yolanda and the movement. Fueled by memories of who she once was--and what once really mattered most--how can she tell those who've come to trust her that she's been spying? As the stakes escalate, and one misstep could cost her life, Yolanda will have to choose between betraying the cause of her people or invoking the wrath of the country's most powerful law enforcement agency.

Praise for Aya de León and her novels

"Gripping feminist heist fiction about turning the tables on the disaster capitalists in the jaws of climate apocalypse."
--Naomi Klein, author of The Shock Doctrine

"De León brings feminism, racial equality, and page-turning entertainment to the best book yet in her uniquely powerful Justice Hustlers series."
--Booklist, STARRED REVIEW, Top 10 Books of the Year for Side Chick Nation
Dafina, 9781496728593, 336pp.
Publication Date: December 29, 2020
About the Author
Aya de León is the author of the award-winning Justice Hustlers series. She teaches creative writing in the African American Studies Department at UC Berkeley and is an alumna of Cave Canem, VONA, and Harvard University. She is a winner of the International Latino Book Award, a three-time winner of the Independent Publisher Awards, and her extensive writing credits include Guernica, Essence, Electric Lit, Ebony, Huffington Post, VICE, Ploughshares, Woman's Day, and Bitch magazine, among many other websites and publications. She lives in the San Francisco Bay Area and is active in the climate justice movement and the Movement for Black Lives. She can be found online at AyadeLeon.com.