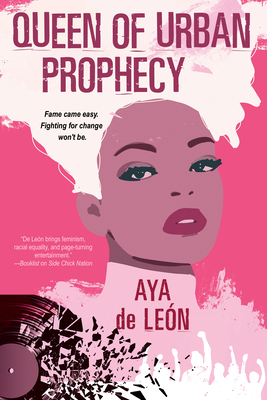 Queen of Urban Prophecy
Paperback

* Individual store prices may vary.
Description
A young female rap superstar takes on the misogyny of the music industry in the electrifying new novel by award-winning author, educator, and activist Aya de León. Radiant with her trademark blend of commercial fiction and social justice, this sexy, smart page-turner delivers activism wrapped in sheer entertainment with a high-drama plot, inclusive characters, and timely themes.

Stardom crashed like an avalanche onto this female rap artist. Now getting justice, real power, and true respect will be the hardest fight of her life…

20-year-old Deza was supposed to be just another hot girl emcee, but when a bonus track strikes a surprising social chord, it rockets her album to the top of the charts—and her record label promotes her to headline their first-ever all-female national tour. As Deza attempts to live up to her new reputation, her inexperience generates tour drama. And when her female DJ quits, the label replaces her with the last thing Deza needs: the sexy guy DJ she flirted with at a club.

But in battling to prove she deserves her success and embracing her power as an activist for Black Lives, Deza starts to feel she can face anything that comes her way—until her label prepares to undermine the all-female lineup in the name of mega-profits.

Now, up against brutal industry misogyny and corporate big money, Deza will need the drive of that scrappy emcee from the South Side of Chicago and the bulletproof cool of a seasoned music professional if she wants to claim a space of respect in hip hop, not just for herself, but for everyone and everything she believes in…
Praise For Queen of Urban Prophecy…
Praise for Aya de León
 
"Gripping feminist heist fiction about turning the tables on the disaster capitalists in the jaws of climate apocalypse? Improbably and thrillingly, Aya de León has pulled off exactly that with Side Chick Nation. I couldn't put it down."
—Naomi Klein, author of The Shock Doctrine on Side Chick Nation
 
"The fourth title in de León's genre-bending Justice Hustlers series is a multifaceted tale. On one level, it's an entertaining feminist heist tale with a satisfying Robin Hood–style caper or two, but where the book truly shines is in spotlighting the challenges facing former sex workers and in angling an unflinching lens on the plight of Puerto Rico, both before and after the Maria disaster. An absorbing, enlightening book that exemplifies the power of good storytelling."
—Kirkus Reviews, STARRED REVIEW for Side Chick Nation
 
"[This] layered tale weaves heist capers, romantic suspense, and unforgettable realism in a look at Puerto Rico after it was devastated by Hurricane Maria… De León brings feminism, racial equality, and page-turning entertainment to the best book yet in her uniquely powerful Justice Hustlers series."
—Booklist, STARRED REVIEW for Side Chick Nation
 
"[The Boss] offers poetic and savvy descriptions of women's inner and external challenges that are reminiscent of Sister Souljah's or Ntozake Shange's work … The worst thing about the book is that it ends."
—Bitch Magazineon The Boss
 
"Pure escapism is what author Aya de León offers here with a story that actually has many separate plots – romance, family drama, a little espionage, and surprisingly righteous feminism – all of them appealing…every reader will be able to find a little of herself there, which makes this a doubly fun novel to enjoy."
—The Miami Timeson The Boss
 
"A lusty tale…a page-turner we can dive into for an escape from poverty, sexism and racism, but also a rallying cry to toss out those systems and rewrite the rules."
—The Washington Post on Uptown Thief
 
"This well-written and enjoyable installment in de León's unique, feminist, urban crime fiction series, Justice Hustlers infuses satisfying power in both plot and character. Readers will embrace this heist story with heart and its hero Tyesha, a smart yet fallible professional and champion for struggling women. León, who is also a poet, social commentator, and head of the Poetry for the People program at UC Berkeley, is a crime writer to watch."
—Booklist STARRED REVIEW for The Boss
 
"Aya de León is a feminist writer to watch."
—Sarai Walker, author of Dietland
Dafina, 9781496728623, 288pp.
Publication Date: December 28, 2021
About the Author
Aya De León is a writer, activist, educator, spoken word poet and author of the award-winning Justice Hustlers series. She teaches creative writing in the African American Studies Department at UC Berkeley and is an alumna of Cave Canem, VONA, and Harvard University. She is a winner of the International Latino Book Award, a three-time winner of the Independent Publisher Awards, and her extensive writing credits include Guernica, Essence®, Electric Lit, Ebony, Huffington Post, VICE, Ploughshares, Woman's Day, and Bitch magazine, among many other websites and publications. She lives in the San Francisco Bay Area and is active in the climate justice movement and the Movement for Black Lives. She can be found online at AyadeLeon.com.