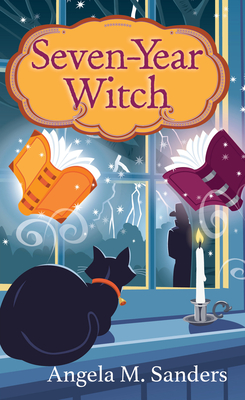 Seven-Year Witch (Witch Way Librarian Mysteries #2)
Mass Market

* Individual store prices may vary.
Description
Finding your feet in a new job isn't always easy. That goes double for Josie Way, who's settling in as Wilfred, Oregon's, new librarian--and has just discovered she's a witch. But will her fledgling powers be enough to save her from a spell of murder?

While Josie develops her witchcraft with the help of letters left by her grandmother, there are other changes happening in her new hometown. A retreat center is being built at the old mill site, and rumor has it that the location is cursed. That piques Josie's interest almost as much as Sam Wilfred, handsome FBI agent and descendent of the town's founder...

When Sam's soon-to-be ex-wife, Fiona, goes missing at the same time that a bloodied weapon is found, Josie enlists her witchy insight, and her cat familiar, to clear Sam's name. But then the mill project's architect is found dead, and it's clear that someone has been drawing up a vicious plan. Now Josie will have to divine her way out of fatal mischief, before this deadly trouble turns double...

Praise for Angela M. Sanders' Bait and Witch

"Balances paranormal whimsy and small-town charm . . . it's a delight to read about someone whose powers derive in part from stories and the feelings that readers attach to them. This is a fine debut that promises more bookish fun to come."
--BookPage

Kensington, 9781496728760, 288pp.
Publication Date: August 24, 2021
About the Author
Angela M. Sanders is the author of the bestselling Joanna Hayworth Vintage Clothing Mysteries, the Witch Way Librarian Mystery series, The Booster Club Capers, and the Kite Shop Mysteries, written under the name Clover Tate. In addition to cozy mysteries, she regularly writes articles on food, vintage clothing, personalities and perfume for Portland Monthly, Now Smell This, the French perfume magazine Nez, and various food magazines. A former congressional investigator, she now writes full-time and is a member of Novelists, Inc., International Thriller Writers and Sisters in Crime. Angela has two cats--one of whom is black of course--a witch's freckle in her left eye, and learned to read tarot cards from a pagan priestess. She lives in Portland, Oregon and can be found online at AngelaMSanders.com