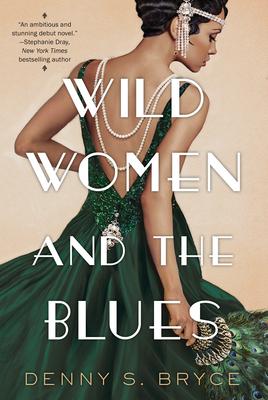 Wild Women and the Blues
A Novel
Paperback

* Individual store prices may vary.
Description
Ordinary People meets Chicago the musical as played out in the city's Black Belt, Wild Women and the Blues is a mainstream historical fiction novel that weaves the stories of a grieving film student in 2015 and an ambitious chorus girl in 1925 in a tale of history, love, and secrets that only family can define.

1925: Chicago is the jazz capital of the world, and the Dreamland Café is the ritziest black-and-tan club in town. Honoree Dalcour is a sharecropper's daughter, willing to work hard and dance every night on her way to the top. Dreamland offers a path to the good life, socializing with celebrities like Louis Armstrong and filmmaker Oscar Micheaux. But Chicago is also awash in bootleg whiskey, gambling, and gangsters. And a young woman driven by ambition might risk more than she can stand to lose.

2015: Film student Sawyer Hayes arrives at the bedside of 110-year-old Honoree Dalcour, still reeling from a devastating loss that has taken him right to the brink. Sawyer has rested all his hope on this frail but formidable woman, the only living link to the legendary Oscar Micheaux. If he's right--if she can fill in the blanks in his research, perhaps he can complete his thesis and begin a new chapter in his life. But the links Honoree makes are not ones he's expecting...

Piece by piece, Honoree reveals her past and her secrets, while Sawyer fights tooth and nail to keep his. It's a story of courage and ambition, hot jazz and illicit passions. And as past meets present, for Honoree, it's a final chance to be truly heard and seen before it's too late. No matter the cost...
Kensington, 9781496730084, 384pp.
Publication Date: March 30, 2021
About the Author
Denny S. Bryce is an award-winning author and three-time RWA Golden Heart® finalist, including twice for Wild Women and the Blues. In addition to writing for NPR Books and FROLIC Media, the former professional dancer is a public relations professional who has spent over two decades running her own marketing and event management firm. A member of the Historical Novel Society, Women's Fiction Writers Association, and Novelists, Inc., she is a frequent speaker at author events and lives in Northern Virginia. Visit her online at DennySBryce.com.
1. When was The Jazz Age? Do you have any favorite musicians from the period?
2. Oscar Micheaux was one of several black filmmakers who produced "race films." These films starred black actors and actresses who portrayed characters that weren't featured in Hollywood's racist stereotypes. How do you think the race films of the 1920's – 1940's may have set the stage for the Blaxploitation films of the 1970s? (Coffey, Shaft, Cleopatra Jones, Superfly).
3. The music of the Jazz Age is thought to be the soundtrack of the Roaring Twenties. What music forms do you think have defined other generations?
4. Was Honoree Dalcour a "New Negro" or naturally resourceful and stubborn about what she valued about her life in Chicago?
5. How did you feel about Honoree taking in the homeless Bessie Palmer? Was it an act of kindness or frustration with the other chorus girls at Miss Hattie's Garden Cafe? Toward the end of the novel, did Honoree feel genuine affection for Bessie or more of an obligation to her pregnant roommate?
6. In 2015, Sawyer's depression was a complicated response to the loss of his sister and his estranged relationship with his father. Why do you think he is so haunted by his sister? Would he be better able to deal with his grief and guilt with a more supportive family?
7. Oscar Micheaux made more than 40 films, though many were lost. One of Micheaux's films, "Within Our Gates," was released in 1920 and called by some a response to D.W. Griffith's "Birth of A Nation," a film cited as heightening the visibility (and acceptance) of the Klu Klux Klan while promoting a negative image of African Americans. What film(s) would you credit as impacting public opinion about an individual/group or political issue? (Think about the 1936 film "Reefer Madness" or propaganda films of World War II, for example).