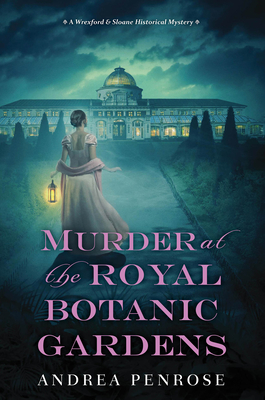 Murder at the Royal Botanic Gardens
A Riveting New Regency Historical Mystery (A Wrexford & Sloane Mystery #5)
Hardcover

* Individual store prices may vary.
Other Editions of This Title:
Digital Audiobook (9/27/2021)
Description
A USA Today bestseller!

"[Penrose] mixes well-thought out mysteries, early forensic science, great details of the era and a slow burning attraction creating a compulsive read." —The New York Public Library

A thrilling new mystery novel from the acclaimed author of Murder at Queen's Landing, perfect for fans of Deanna Raybourn and Anne Perry!

The wedding of the Earl of Wrexford and Lady Charlotte Sloane is not-to-be-missed, but the murder of a brilliant London scientist threatens their plans—and their lives…The upcoming marriage of the Earl of Wrexford and Lady Charlotte Sloane promises to be a highlight of the season, if they can first untangle—and survive—a web of intrigue and murder involving the most brilliant scientific minds in Regency London…

One advantage of being caught up in a whirl of dress fittings and decisions about flower arrangements and breakfast menus is that Charlotte Sloane has little time for any pre-wedding qualms. Her love for Wrexford isn't in question. But will being a wife—and a Countess—make it difficult for her to maintain her independence—not to mention, her secret identity as famed satirical artist A.J. Quill?

Despite those concerns, there are soon even more urgent matters to attend to during Charlotte and Wrexford's first public outing as an engaged couple. At a symposium at the Royal Botanic Gardens, a visiting botanist suffers a fatal collapse. The traces of white powder near his mouth reveal the dark truth—he was murdered. Drawn into the investigation, Charlotte and the Earl learn of the victim's involvement in a momentous medical discovery. With fame and immense fortune at stake, there's no shortage of suspects, including some whose ruthlessness is already known. But neither Charlotte nor her husband-to-be can realize how close the danger is about to get—or to what lengths this villain is prepared to go . . .
Praise For Murder at the Royal Botanic Gardens: A Riveting New Regency Historical Mystery (A Wrexford & Sloane Mystery #5)…
Praise for the Wrexford & Sloane Historical Mystery series
 
MURDER AT QUEEN'S LANDING
 
"Scientific discoveries combine with a complex mystery to provide an action‑packed brainteaser."
—Kirkus Reviews
 
"The author captures the Regency era's complexities in vivid settings, contrasting milieus, and a wealth of fascinating details."
—Publishers Weekly
 
 
MURDER AT HALF MOON GATE
 
"Penrose deftly combines a Regency romance with a tricky mystery that delves into social unrest and the darker side of this storied period."
—Kirkus Reviews
 
"Its complex story line and authentic historical details bring the early days of the Industrial Revolution vividly to life. Bound to fascinate readers of C.S. Harris and even fans of Victorian mysteries."
—Library Journal, Starred Review
 
"The relationship and banter between the two stars of this series is incredible. Readers will look forward to seeing Charlotte and Wrex again (and hopefully very soon)."
—Suspense Magazine
 
 "Penrose reveals intriguing new aspects of her protagonists' characters and relationship in a story linked to the era's technological and social changes."
—Publishers Weekly
 
MURDER ON BLACK SWAN LANE
 
"Thoroughly enjoyable . . . with sharp, engaging characters, rich period detail, and a compellingly twisty plot, Andrea Penrose delivers a winner . . . Fans of C.S. Harris and Kate Ross will be rooting for Charlotte Sloane and the Earl of Wrexford. Devilishly good fun!"
—Deanna Raybourn, New York Times bestselling author
 
"Fans of C.S. Harris take note! In this new, Regency-set mystery series, the artist Charlotte Sloane and the scientist Earl of Wrexford are the perfect mismatched pair of sleuths. A riveting ride through Regency London, from the slums of St. Giles, to the mansions of Mayfair."
—Lauren Willig, New York Times bestselling author
 
"A wonderfully engaging Regency mystery, with a most determined heroine and an engaging pair of street urchins at her side. Historical chemistry meets alchemy, and only a nonchalant nobleman can help solve the murder. A delight of a book."
—Joanna Bourne, award-winning author
 
 "A female 19th-Century cartoonist as an amateur sleuth is a welcome innovation."
—Publishers Weekly
 
MURDER AT KENSINGTON PALACE
 
"Penrose does a good job linking the mystery to the period's scientific and social changes. Those seeking an unusually rich lookat Regency life will be satisfied."
—Publishers Weekly
 
"Penrose is excellent at conveying the details of early 19th-century science and experiments with electricity. This was the era of Frankenstein, after all. The relationship between Wrexford and Charlotte is further developed in this book, and I am looking forward to seeing where it leads next."
—Historical Novel Society
 
"Penrose deftly intertwines the politics of navigating Regency-era society, scientific progress, and the deepening relationship between the protagonists. Series fans will enjoy revisiting the lively cast of characters, while historical fiction readers will be satisfied by the immersive, richly detailed mystery."
—Library Journal
 
"Murder at Kensington Palace is a challenging story, replete with scientific discoveries and challenges of the time, but it's grounded in loyalty, persistence, and courage."
—Criminal Element
 
 "Science and romance meet in a high-stakes cat-and-mouse game."
—Kirkus Reviews
Kensington, 9781496732507, 368pp.
Publication Date: September 28, 2021
About the Author
Andrea Penrose is the bestselling author of Regency-era historical fiction, including the acclaimed Wrexford & Sloane mystery series, as well as Regency romances written under the names Cara Elliott and Andrea Pickens. Published internationally in ten languages, she is a three-time RITA Award-finalist and the recipient of numerous writing awards, including two Daphne Du Maurier Awards for Historical Mystery and two Gold Leaf Awards. A graduate of Yale University with a B.A. in Art and an M.F.A. in Graphic Design, Andrea fell in love with Regency England after reading Pride and Prejudice, and has maintained a fascination with the era's swirling silks and radical new ideas throughout her writing career. She lives in Connecticut and blogs with a community of historical fiction authors at WordWenches.com. She also can be found at AndreaPenrose.com and on Instagram @AndreaPenroseBooks.