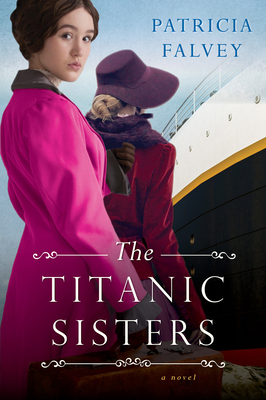 The Titanic Sisters
A Riveting Story of Strength and Family
Paperback

* Individual store prices may vary.
Description
Spanning from rural Ireland, to New York and Texas in the early 1900s, Patricia Falvey's The Titanic Sisters explores the relationship between two sisters whose lives take very different directions after they survive the perilous voyage from Ireland to America aboard the Titanic.

"The enchanting saga of two Irish sisters...This new chapter of Titanic lore is worth plunging into." --Publishers Weekly

From the acclaimed author of The Girls of Ennismore comes a captivating and extraordinary tale of perseverance and bravery. This touching saga of sisterhood--perfect for fans of Fiona Davis and Marie Benedict--follows two young Irish women yearning for independence and adventure, as they set sail on RMS Titanic--the "ship of dreams"--only to be faced with the tragedy of that fabled maiden voyage...

Delia Sweeney has always been unlike her older sister--fair and delicate compared to tall, statuesque Nora, whose hair is as dark as Donegal turf. In other ways too, the sisters are leagues apart. Nora is her mother's darling, favored at every turn, and expected to marry into wealth. Delia, constantly slighted, finds a measure of happiness helping her da on the farm. The rest of the time, she reads about far-off places that seem sure to remain a fantasy. Until the day a letter arrives from America . . .

A distant relative has provided the means for Delia and Nora to go to New York. Delia will be a lowly maid in a modest household, while Nora will be governess for a well-to-do family. In Queenstown, Cork, they board the Titanic, a majestic new ocean liner making its maiden voyage. Any hope Delia carried that she and her sister might become closer during the trip soon vanishes. For there are far greater perils to contend with as the ship makes its way across the Atlantic . . .

In the wake of that fateful journey, Delia makes an impulsive choice--and takes Nora's place as governess. Her decision sparks an adventure that leads her from Fifth Avenue to Dallas, Texas, where oilfields bring unimagined riches to some, despair to others. Delia grows close to her vulnerable young charge, and to the girl's father. But her deception will have repercussions impossible to foresee, even as it brings happiness within reach for the first time . . .
Praise For The Titanic Sisters: A Riveting Story of Strength and Family…
Praise for The Titanic Sisters 

"Falvey (The Girls of Ennismore) delivers the enchanting saga of two Irish sisters who board the Titanic with dreams of new lives in New York City…Falvey does a good job capturing the girls' excitement at leaving Ireland for New York, and of showing Nora's gradual recovery of her memories. This new chapter of Titanic lore is worth plunging into."
—Publishers Weekly

Praise for Patricia Falvey
 
"Rich in authentic historical and Irish detail, The Girls of Ennismore is a compelling story of love, duty, and reinvention, highlighting the vast rewards—or grave consequences—of following one's heart."
—Kristina McMorris, New York Times bestselling author of Sold on a Monday on The Girls of Ennismore

"An engaging narrative of class differences, sibling entanglements, inheritance of grand Irish estates, and the potential loss of them, finding home, finding love, all set against the turbulent 1916 Easter Uprising in Ireland. A complex and enjoyable read."
—Susan Vreeland, New York Times bestselling author of Girl in Hyacinth Blue on The Girls of Ennismore
 
"Falvey, adept at combining vivid historical detail and rich characterization, brings closure to Rose's and Victoria's amorous predicaments with brio and simplicity as the women eventually reunite in friendship."
—Publishers Weekly on The Girls of Ennismore
 
"An emotionally powerful book, and a joy to read. Falvey has a gift for creating realistic and very believable characters. By saying it's a gift, I don`t mean it's easy to do this. It is the result of much hard work."
—Irish American News on The Linen Queen
 
"A host of interesting characters, surprising but plausible plot developments, and deftly incorporated details of the Irish struggle for independence add up to a debut novel sure to please fans of historical romance."
—Library Journal on The Yellow House
 
"A provocative reminder of the tangled strings of family, war and familiar war."
—The Dallas Morning News on The Yellow House
Kensington, 9781496732569, 320pp.
Publication Date: January 26, 2021
About the Author
Patricia Falvey is the author of The Yellow House, The Linen Queen, The Girls of Ennismore and The Titanic Sisters. Born in Northern Ireland, she immigrated alone to the United States at the age of twenty. She now lives in Dallas, Texas and is a member of The Writers' Garret, The Dallas Institute for Humanities and Culture, and The Irish American Society Book Club of Dallas. Visit Patricia online at PatriciaFalveyBooks.com.