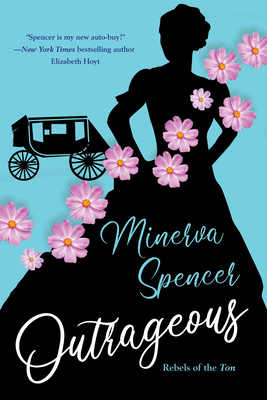 Outrageous
A Gripping Historical Regency Romance Book (Rebels of the Ton #2)
Paperback

* Individual store prices may vary.
Description
Bridgerton fans and readers of Grace Burrowes, Sophie Jordan, and Alexa Aston won't want to miss this clever and exciting new love story from the acclaimed author of Notorious.

"This daring, emotional page-turner is a delight."— Publishers Weekly

When Eva de Courtney kidnaps Godric Fleming, her only plan is to stop the irritating earl from persecuting her beloved brother. But once she has the intriguing rogue in the confines of her carriage, she longs to taste the passion she senses simmering beneath his rugged exterior. Her forbidden plan is foiled, however, when Godric turns the tables, taking her hostage instead—and demanding they marry at once…

The last thing Godric wants to do is make the fiery, impulsive Eva his wife, despite her delectable mouth and alluring innocence. He knows from experience that nothing is forever, not even love. But honor demands he do right by the lady, no matter how stubbornly Eva tries to hold on to her independence. And while the road to the Scottish border is beset with danger, Godric's greatest challenge is to keep his hands—and his heart—from his captivating bride-to-be…

Praise for Minerva Spencer's Outcasts series

"Fans of Amanda Quick's early historicals will find much to savor." —Booklist (Starred Review)

"A standout. . . . brilliant and original." —Publishers Weekly (Starred Review)

"Sexy and wildly entertaining." —Kirkus Reviews (Starred Review)

Praise For Outrageous: A Gripping Historical Regency Romance Book (Rebels of the Ton #2)…
"The exciting drama of their road trip only facilitates their individual growth, and returning fans will be especially gratified to see the villainous Godric in a new light. This daring, emotional page-turner is a delight." —Publishers Weekly


"With the latest splendidly entertaining addition to her Rebels of the Ton series, following Notorious (2020), Spencer is once again perfectly on point with her fetching brand of historical romance, as aptly illustrated by this lusciously sensual love story with a memorable cast of characters that includes a marvelously matched hero and heroine and a plot rich in action and danger and spiced with just the right amount of tart wit." —Booklist

Kensington, 9781496732859, 368pp.
Publication Date: June 29, 2021
About the Author
Minerva Spencer is the multiple award-winning author of Regency-set historical romance novels, including the Rebels of the Ton and the Outcasts series. Born in Saskatoon, Saskatchewan, she lived in Canada, the US, Europe, Africa, and Mexico before moving to New Mexico, where she resides now with her husband and dozens of rescue animals. She was previously a college history professor, a criminal prosecutor, a bartender, and owner of a bed and breakfast. Visit Minerva online at MinervaSpencer.com.